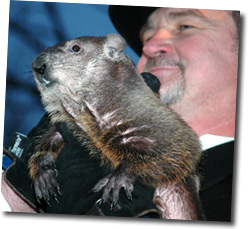 That's right Woodchuck Chuckers, it's GROUNDHOG DAY!!! This is one of my favorite holidays. You can watch Punxsutawney Phi live through streaming video here his prediction is scheduled for 7:25am EST…
I will have more on Phil and other Groundhogs later this morning. I hope they know what is good for them and forecast an early spring.
Well for those who track Punxsutawney Phil. He emerged and did NOT see his shadow. That means he is predicting an early spring. Here is some more information on Groundhog Day…
WHO IS PHIL?:Punxsutawney Phil has been making weather prognostications every Feb. 2 in Punxsutawney, Pa., since 1886.
THE ORIGINS: Groundhog Day grew out of what had essentially been a German superstition. German settlers brought with them the idea that if a hibernating animal casts a shadow Feb. 2 — the Christian holiday of Candlemas — winter will last another six weeks. If no shadow is seen, legend says spring will come early.
WHERE IT HAPPENS: Punxsutawney is a town of about 6,100 people located about 65 miles northeast of Pittsburgh.
MORE INFORMATION: http://www.groundhog.org/
Punxsutawney Phil may be the most famous of the groundhogs but he's not the only furry forecaster around. Here in Western New York we have two groundhog traditions. Dunkirk Dave and Ridge Lea Larry.
For more of Phil's cousins you can check out Groundhog Central.