Updated more pictures and videos of flooding in Indiana and Martinsville.
I have been in contact with family in friends back home in Martinsville, IN. It sounds like the water is beginning to recede with the dry and sunny skies they saw today, but more rain from storms is forecasted for Monday, Monday Night and Tuesday. The National Weather Service in Indianapolis has issued a Flash Flood Watch for several counties already dealing with flooding.
It sounds like most of the flooding from the rains Friday and Saturday was a product of rivers and streams spilling over their banks and just the amount of rain (4 to 10 inches of rain) having no place to drain off.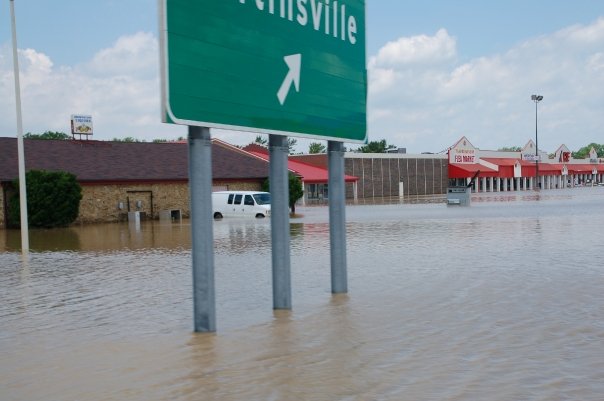 (photo from Phil Pratt, Martinsville, IN)
Flooding Gallery of Pictures from WISH-TV | View photos | Submit your flood pics |
Click for another YouTube Video from Martinsville, IN on the flooding.
From what I've read from the various news sources in Indiana, many men and women in local emergency management, law enforcement, Indiana National Guard, and the Indiana conservation officers for helping the people of Indiana and trying to protect people from the dangers of the flood waters and even those who try to take advantage of the flooding by looting and stealing.
There has been one confirmed death due to the flooding in Indiana and reports of some missing. I have to say that as deadly as flooding can be, I am thankful that there has only been one reported death due to flooding in Indiana. Even though water levels may be lowering from the break in the rain please do not attempt to enter flooded areas either by foot or by vehicle. The best advice is from the NWS:
FLOOD WATERS ARE DEADLY! DO NOT DRIVE THROUGH FLOODED ROADWAYS OR PASS HIGH WATER BARRICADES! YOU WILL NOT MAKE IT!
National Weather Service Indianapolis
News and Headlines from Indiana:
Indianapolis, IN:
IndyStar.com Indiana Flooding Disaster Updates | Latest Updates on Disaster Declarations, Shelters & Road Closures | WISH TV 8 | WTHR 13 | Indychannel.com | FOX59.com |
Terre Haute, IN:
TribStar.com | MyWabashValley.com | WTHI |