(Welcome IrishTrojan Readers)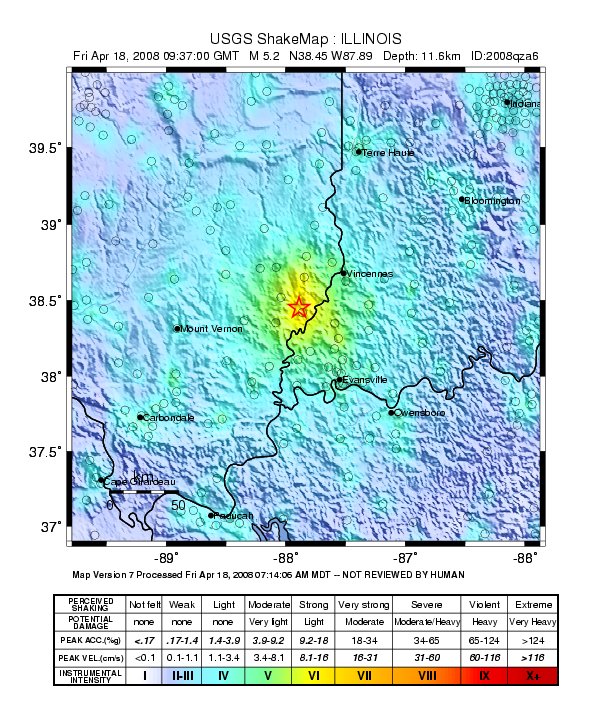 UPDATE 11:45a: At 11:14a EDT there was a 4.6 Aftershock…
Around 5:30 AM EDT an earthquake with a magnitude of 5.4 shook parts of the Midwest centered around Mt. Carmel and West Salem IL.Initial reports from WISH-TV in Indianapolis reports that "it shook tall buildings in downtown Indianapolis," and was "felt as far north as Kokomo, Rochester and Warsaw in Indiana." Also, MLive.com is reporting that it was felt in Grand Rapids.
Other locations that felt this quake were Wisconsin, Missouri, Tennessee, Michigan, Iowa even in Georgia.
News from various cities: Indianapolis Star | Evansville CourierPress | Chicago Tribune | Cincinnati Enquirer | St. Louis Dispatch | Louisville Courier Journal |
You can stay up-to-date with the latest at google news here…
UPDATE 10:30AM: Some people may wonder how a 5.4 quake in the Midwest can be felt much farther away than those that take place along the West Coast. Here is an explanation I found on Brendan Loy's blog the IrishTrojan.com:
If you're a Californian wondering how on earth something a puny as a 5.2 quake (or "temblor," as you guys say out there) could be felt so strongly from places as far afield as Chicago and Knoxville, it's because, as explained here, "seismic waves in the East travel farther and pack more destructive punches." The exact reason for this phenomenon is a topic of much debate among scientists, but "one explanation is that eastern geology is older and simpler, with fewer faults in the ground to slow the travel of quake waves."
More Information: Did youknow, The Great 1906 San Francisco earthquake happened 102 years ago today at 5:12 a.m.
Earthquake History of Illinois. | Information on the Madrid Fault line…
December of 1811, the largest earthquake ever recorded in American History occurred on the New Madrid Fault, near New Madrid, Missouri. The magnitude of the New Madrid quake was estimated to be of 8.0 or higher on the not yet invented Richter scale. Large areas sank into the earth, new lakes were formed, and the Mississippi River changed its course due to the earthquakes.
Please feel free to leave your thoughts or stories of your experiences in the comments section.