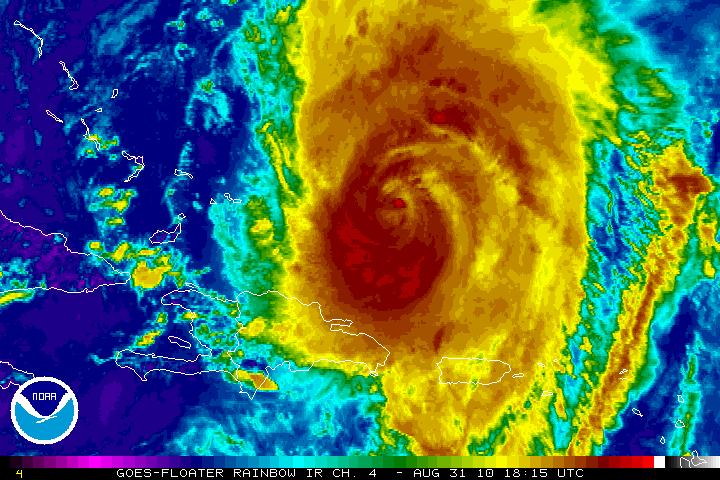 Hurricane Earl, which has maintained it's category 4 strength (max sustained winds 135 mph) since yesterday evening, looks to be weakening some as it goes through an eyewall replacement cycle. Another sign of weakening could because it is experiencing some wind shear on its western side. It is evident in the image above. The western side of Earl looks almost flat not round. Should be interesting to see how this might impact Earl and its strength later this afternoon and evening. As of 11am EDT, the National Hurricane Center forecasted Earl to maintain category 4 strength before getting caught up in the shear. Maybe it is happening sooner than they expected.
As far as the path of Earl, with each run of the computer models and update from the National Hurricane Center it keeps bringing the storm closer to east coast of the United States, most notably the Otter Banks of North Carolina and Cape Cod, Massachusetts. As the Houston Chronicle Science Blogger Eric Berger points out with all forecast there are errors the farther you go out:
The average error in three-day forecasts is about 130 miles, and if the forecast is off by about that much to the west then Earl would slam directly into Cape Hatteras, N.C.

None of the models are calling for that, however, and they're still forecasting a northwest turn later today and a northward turn on Thursday. Currently moving west-northwest, if Earl does not take a sharper turn to the northwest later today it will be disconcerting to say the least.
The good news for the east coast is most of the models are beginning to show very similar solutions and keeps Earl about 100-200 miles off shore. Landfall in the US seems unlikely but the east coast from the Carolinas up to Massachusetts and Maine could experience tropical storm conditions while the Outer Banks and Cape Cod possibly experiencing hurricane conditions.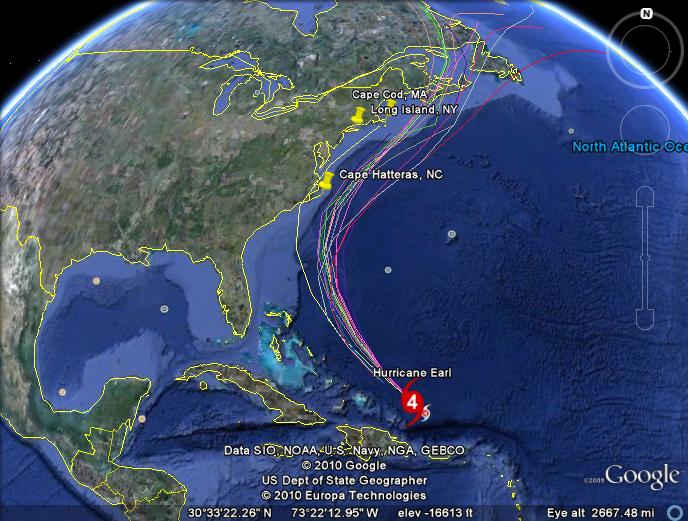 As Brendan Loy points out over on Sullivan's Travelers site New England probably won't get much but some windy weather later this week:
The models now universally call for Earl to take a pronounced right turn between 30° N and 40° N; there is no longer even a single reputable model predicting a landfall in New England, or even getting closer than a hundred miles away from Cape Cod and the Islands. All of the models have Earl's track staying to the "right" of the crucial 40° N 70° W marker.
We're still 48 hours out from when Earl could start to impact the United States along the Outer Banks of North Carolina. One thing I've learned from tropical systems and hurricanes over the last 6 years as I blogged about them is just when you think you've got them all figured out, they go and do something unexpected that leaves you baffled. If you live in any place along the east coast that is close or in the National Hurricane Centers forecasted path and cone of uncertainty then I would be monitoring all forecast updates and start preparing for "Just in Case."
As Ben Franklin said, "An ounce of prevention is worth a pound of cure" I think that holds very true in situations like this. I just want people to be safe and use common sense. I don't expect Earl to make landfall in the United States. Personally and professionally from all I have read and seen online, I expect the center of the storm to comes with in 100 miles of the United States before making landfall in Nova Scotia as a category 1 hurricane sometime Saturday morning.
Because these forecasts can always change, and sometimes they do, there's nothing wrong with thinking ahead and being prepared for, "just in case"
Hurricane Earl Resources – [NHC Earl Tracker] [NOAA Earl Satellite Images] [NHC Earl Public Advisory] [NHC Earl Forecast Discussion] [Earl Model Plots] [NOAA Buoy Observations] [NOAA tidal gauges] [StormPulse.com] [Wunderground.com Earl Resources] [Skeetobite Weather Earl Forecast Intensity and Path] [AccuWeather.com Hurricane Center] [AccuWeather.com Hurricane Center]
More great insight in the following weather blogs – [Dr. Jeff Masteres Wunderground Blog] [Houston Chronicles SciGuy Eric Berger] [Brendan Loy - Sullivan's Travelers] [AccuWeather.com Weather Matrix Blog] [RaceWeather.net Tropics Discussion out of Texas]