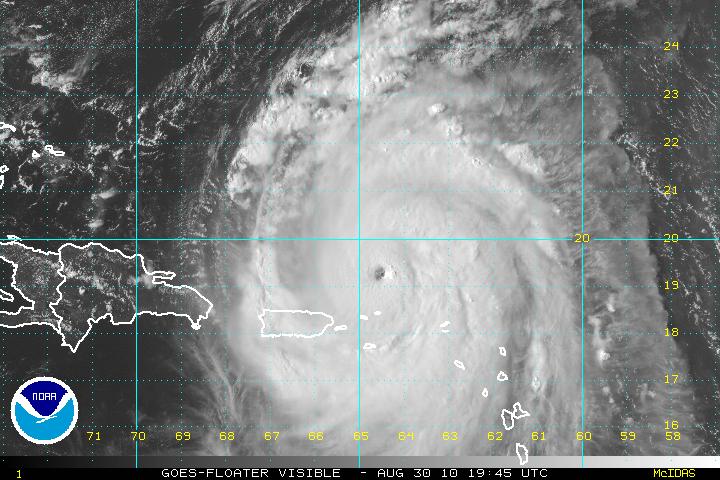 Earl became the second major hurricane of the 2010 Atlantic Hurricane this morning, and has continued to intensify since then. As of 5pm EDT, Earl had become a category 4 hurricane with sustained maximum winds of 135 mph and a central pressure 948 mb. It is moving west-northwest at 15 mph. Here is current forecast discussion from the National Hurricane Center:
EARL IS EXPECTED TO REMAIN IN A LOW SHEAR ENVIRONMENT AND OVER WARM WATER DURING THE NEXT FEW DAYS AND SOME ADDITIONAL STRENGTHENING IS LIKELY IN THE SHORT TERM. THEREAFTER…EYEWALL CYCLES WILL LIKELY INDUCE SOME FLUCTUATIONS IN INTENSITY…WHICH ARE DIFFICULT TO PREDICT. THE NHC FORECAST IS AGAIN NEAR THE HIGH END OF THE INTENSITY GUIDANCE. AT DAYS 4 AND 5…THE HURRICANE IS FORECAST TO MOVE OVER COOLER WATER AND INTO AN AREA OF INCREASING SHEAR WHICH SHOULD RESULT IN WEAKENING.

THE INITIAL MOTION IS 290/13. THE FORECAST REASONING REMAINS UNCHANGED AS EARL IS EXPECTED TO TURN NORTHWESTWARD IN ABOUT 24 HOURS AROUND THE WESTERN PERIPHERY OF THE SUBTROPICAL RIDGE. THE TRACK GUIDANCE HAS SHIFTED NOTICEABLY WESTWARD DURING THE FIRST 48 HOURS…WITH THE GFS AND ECMWF ON THE EASTERN EDGE OF THE ENVELOPE. THE OFFICIAL FORECAST HAS BEEN ADJUSTED WESTWARD… PRIMARILY THROUGH 72 HOURS…AND LIES BETWEEN THE GFS/ECMWF AND THE MULTI-MODEL CONSENSUS.

THIS IS A GOOD TIME TO REMIND EVERYONE THAT NHC AVERAGE TRACK FORECAST ERRORS ARE 200 TO 300 MILES AT DAYS 4 AND 5. GIVEN THIS UNCERTAINTY…IT IS TOO SOON TO DETERMINE WHAT PORTION OF THE U.S. EAST COAST MIGHT SEE DIRECT IMPACTS FROM EARL.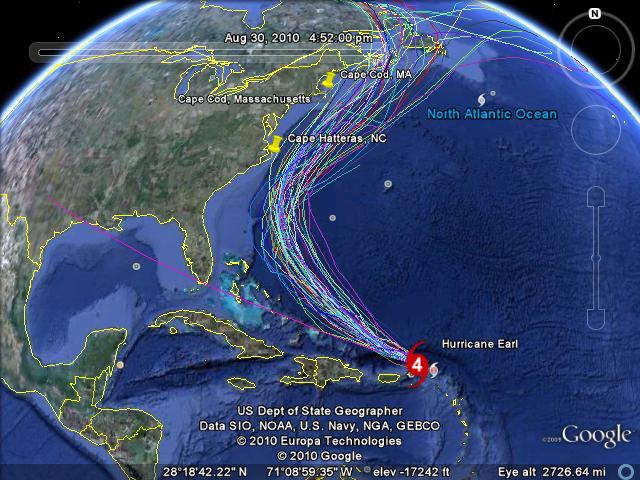 If I am someone who lives along the east coast from the Carolinas, especially North Carolina all the way up to Cape Cod I would be making several types of plans at this point. After reading Jeff Masters Wunderground Weather Blog, I concur with his thoughts on how someone along the eastern coast of the United States should prepare and perceive Earl.
Once Earl passes the Lesser Antilles, steering currents favor a northwesterly course towards North Carolina. History suggests that a storm in Earl's current location has a 25% chance of making landfall on the U.S. East Coast, and Earl's chances of making a U.S. landfall are probably close to that. None of the computer models show Earl hitting the U.S., but the storm will likely come uncomfortably close to North Carolina's Outer Banks and to Massachusetts. The latest set of model runs (2am EDT, or 6Z) project Earl will miss North Carolina by 200 – 300 miles on Thursday, and Massachusetts by a similar distance on Friday. Keep in mind that the average error in a 4 – 5 day NHC forecast is 200 – 300 miles, so the East Coast cannot breathe easily yet. The Outer Banks of North Carolina and Cape Cod, Massachusetts are both at the edge of the cone of uncertainty. NHC is giving Cape Hatteras a 9% chance of receiving hurricane force winds. These odds are 14% for Nantucket, 4% for Boston, and 2% for New York City. The main determinant of whether Earl hits the U.S. or not is a strong trough of low pressure predicted to move off the U.S. East Coast Friday. This trough, if it develops as predicted, should be strong enough to recurve Earl out to sea late in the week, with the storm just missing landfall in the U.S., but possibly making landfall in Nova Scotia, Canada.

Regardless of Earl's exact track, the U.S. East Coast can expect a long period of high waves beginning on Thursday. Significant beach erosion and dangerous rip current will be the rule, due to waves that will reach 10 – 15 feet in offshore waters
From Sunday night to Monday morning it seemed the trend in the models and National Hurricane Forecast was to shift the forecast track more to the west. As Dr. Masters' points out this is uncomfortably close to the Outer Banks, of North Carolina and Cape Cod, Massachusetts.
I have been reading Joe Bastardi's daily blog on the AccuWeather Professional site. He is a little more bullish than the National Hurricane Center and most of the models on pushing the track of Earl closer to the United States, "Earl 100 miles east of Hatteras as a major, 100 miles east of Cape Cod as a Cat 2, hurricane conditions Outer Banks, Cape and islands from this."
Also at 5pm EDT, tropical storm Fiona formed behind Earl. Will have more on this tomorrow.
Hurricane Earl Resources – [NHC Earl Tracker] [NOAA Earl Satellite Images] [NHC Earl Public Advisory] [NHC Earl Forecast Discussion] [NOAA Buoy Observations] [NOAA tidal gauges] [StormPulse.com] [Wunderground.com Earl Resources] [Skeetobite Weather Earl Forecast Intensity and Path] [AccuWeather.com Hurricane Center] [AccuWeather.com Hurricane Center]
More great insight in the following weather blogs – [Dr. Jeff Masteres Wunderground Blog] [Houston Chronicles SciGuy Eric Berger] [AccuWeather.com Weather Matrix Blog] [RaceWeather.net Tropics Discussion out of Texas]