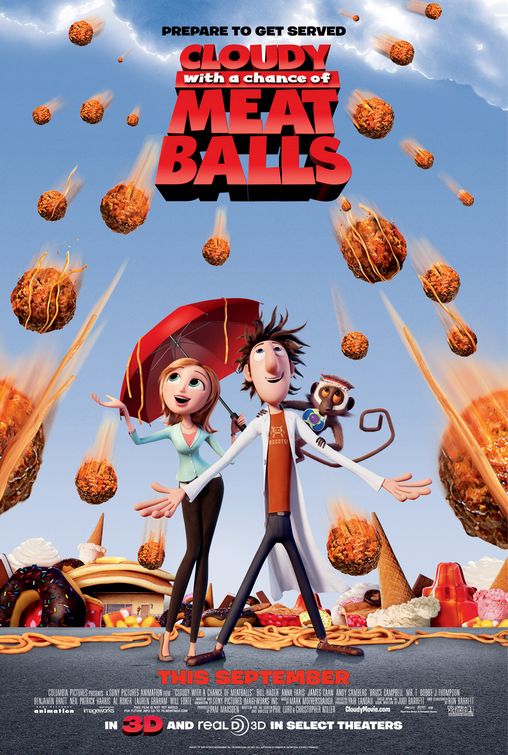 Reviews I recommend for this movie:
Dr. Rus Jeffrey: Frame by Frame A Family-Friendly Guide To The Movies | Ben Beagle Lifestyle Editor of The Batavia Daily News (which I contribute to his review)
Sony Animation's "Cloudy with a Chance of Meatballs" opens today. This movie is an adaptation of the book with the same title written by Judi Barrett, drawn by Ron Barrett. This is one of my childhood favorites, and today, I get to read it to my children (we have two copies, mine which is in hardcover and a newer one my kids have) and I also read this to school age children in pre-K through 1st grade when I am invited to do weather talks or story readings. Because this has been a long time favorite of mine, when I heard they were going to turn my childhood classic into a movie I was excited and curious about how they would do it, and when I saw that the movie was going to be very different from the book, I was nervous if I was going to like.
I had the privilege of joining my good friend Dr. Rus Jeffrey who is a movie critic at an early screening last Saturday. He was also kind enough to allow my 3 boys to come along with me. We got to see it in the Digital 3D, and I have to say I truly enjoyed it.
Knowing the story as well as I do, I could tell from the previews this was not going to be like the original book. The book is relatively short and is presented as a bedtime story that a grandfather tells his grandchildren one night before bed. The story is about the unique town of Chewandswallow where it doesn't rain rain or snow snow but rains things like milk and juice and snows peas and mashed potatoes. Of course their weather happens three times a day as their meals. That's about where the similarities in the book and movie end.
Of course there is no real meteorological value in the movie — we don't see food come from the skies — but it is a great way to get kid interested in weather and maybe get them to take a closer look at what happens around them.
I enjoyed the movie: as a father, watching a great family friendly movie my boys loved, my inner child, enjoying a brand new take on a story I loved in my youth, and as the meteorologist, to be able to laugh at myself and my profession as the film makers make fun of the on-air meteorologist. Specifically it seems to take its shots at the Weather Channel and presents them as more "pretty" than knowledgeable. I also laughed at how they were trying to explain the Perfect Food Storm in meteorological terms and through their high tech weather gadgets like Doppler Radar.
All in all this is a fun movie –great for kids and kids at heart. I absolutely recommend seeing this in 3D, love the bright colors and a nice theme about being true to who you are.