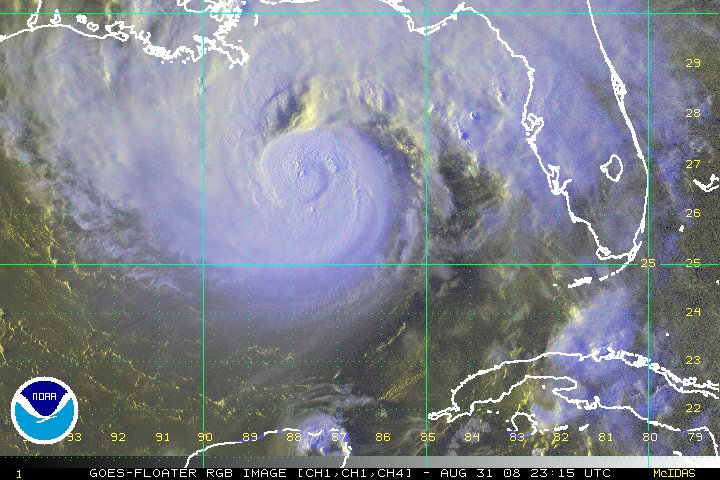 Gustav is hardly the storm it was just 24 hours ago when it crossed the western part of Cuba. Then it was a Category 4 hurricane with sustain winds of 140 mph. At that time, some weakening was expected as it moved over land but it was forecasted to quickly regain its strength as it moved back over the warm deep waters of the Gulf of Mexico's Loop Current. Now as of 8pm EDT (7pm CDT) Gustav has passed over the warm Gulf of Mexico's Loop Current and it didn't strengthen as many, including myself, thought that it would. Brendan Loy, Pajamas Media "Weather Nerd", has a nice explanation on this lack of strengthening. That is good news, but Gustav is becoming more organized and is showing signs of strengthening.
As of 7 pm EDT, according to a recon report, Hurricane Gustav's minimum central pressure has fallen 4 millibars — from 957 to 953 millibars — since about 3pm. That is a total of 9 mb drop since this morning. It may not be rapid intensification but it is steady.
As of 8 pm EDT, the NHC had Gustav as category 3 hurricane. That still classifies it as a major hurricane but with maximum sustained winds of 115 mph it really make Gustav a boarder line category 2/3 hurricane. It was about 260 miles S-SE of New Orleans moving to the NW at around 17 mph. Hurricane force winds extended 70 miles from the center of Gustav and tropical force winds could be felt in New Orleans tonight with Hurricane force winds later Monday morning. On New Orleans Doppler radar we are already seeing some of Gustav's outer rain bands and storms affecting parts of Mississippi and Louisiana.
So the big questions that still remain are intensity and location of Gustav at landfall? There's still a lot of speculation, even with just about 12 hours to go until landfall. First lets look at intensity starting with Weather Underground's Dr. Jeff Masters who feels,
"Given the recent improvement in Gustav's organization, I believe that the storm has time to intensify into at least a Category 3 hurricane with 125-130 mph winds by landfall. Gustav should not intensify as rapidly as it did when approaching Cuba."
Brendan Loy follows up that quote with his thoughts:
On the other hand, it's still possible that Gustav's winds could ramp up to 125-130 mph — and then ramp back down to ~115 mph just before landfall. Precision in the intensity forecast is impossible, even at this late date. Regardless, though, it looks like this will be a Category 2 or 3 at landfall, not a Category 4 or 5.
Andrew Sullivan is expecting New Orleans to experience "some very heavy weather."
I'm guessing 120 mph winds at landfall. With forward speed at 18 mph, Gustav will be ashore much sooner than previously expected. This means less time for the core to decay before it passes just SW of New Orleans — the worst track. And it certainly seems to be heading in that direction. Maybe it will waver left or right. Maybe. Will the major levees hold? Probably. Gustav may not quite be strong enough to cause another wholesale flood of the city.
…and Eric Berger writes, "Odds increasing that New Orleans will be spared the worst."
The hurricane center has shifted its forecast track slightly west, reflecting the computer model changes discussed below. In their discussion the forecasters add that minor adjustments further to the west may be necessary.

This shift, as I discussed below, diminishes the chances of a catastrophic blow to New Orleans. The likelihood of hurricane force winds in the Big Easy is now just 44 percent, and it would take winds stronger than that to cause significant flooding.
I know this has to be very confusing for a lot of you who read all these various blogs. Is it or isn't it going to hit New Orleans? Yes, New Orleans will feel the impacts of Gustav and  I think New Orleans has a better than 50% chance of experiencing hurricane force winds. (Winds over 74 mph) I know one would think meteorologist and forecasters would have a better handle on location and even wind forecast hours before a storm makes landfall but time and time again, despite all the advancements in technology and even forecasting, we still see these storms do something we didn't forecast, be it strengthen right before landfall or even strengthen when the conditions didn't look like it was possible.
Bottom line is this, whether or not Gustav is stronger then Katrina or if it causes the levees to fail or not it was still the right decision to evacuate as many people as possible before this storm made landfall. When you are talking about life or death, there is no gambling on odd of whether or not a storm will do as forecasted. You make a decision not on what you hope a storm will do but what it could possibly do. My prayers go out to everyone who lives along the affected areas. I pray that Gustav is a weaker version of what is forecasted.
P.S. I hope to have more info on the happenings of Hanna tomorrow…
New Orleans Local News Coverage and Live Streaming Video:
WWLTV.com News Coverage] [WDSU-TV (NBC 6)] [WGNO-TV (ABC 26)] [WVUE-TV (Fox 8)] [Four New Orleans TV live streams on one page] [Twitter Search #gustav] [New Orleans Hurricane Center] [South Mississippi, Biloxi-Gulfport Hurricane News] [Houston, Texas Hurricane Central] [Gustav Google News]
Sites to help you Prepare:
[American Red Cross Hurricane Gustave Online Newsroom] [Ready.gov Preparing for Hurricanes] [FEMA's Hurricane Gustav Page] [Emergency information for Louisiana Residence] [UMCOR Prepares for Gustav]
Useful Weather Sites and Blogs I Visit:
Dr. Jeff Masteres Wunderground Blog | Pajamas Media "Weather Nerd" Brendan Loy | Alan Sullivan's Fresh Bilge | Houston Chronicles SciGuy Eric Berger | NHC Gustav Tracking Page | National Hurricane Center | WunderGround.com Gustav | AccuWeather.com Hurricane Center | AccuWeather.com Weather Matrix Blog | Skeetobite Weather | Key West radar | New Orleans radar | Gustav tidal gauges | Gulf buoy data |