Watkins Glen International Weather Forecast: Definitely Wet on Sunday

Click here for the Latest Forecast
Conditions in Watkins Glen, NY:
Click here for Current Weather Conditions – Look at Doppler Radar | Mobile Friendly Site | Mobile Radar
Complete Broadcast Schedule From NASCAR.com
Watkins Glen, NY
SAT Aug 13
SUN Aug 14

Sun and clouds, Chc. of PM storms.
Showers & storms likely
High: 83
Low: 54
High: 80
Low: 63
FORECAST DISCUSSION SATURDAY 2 AM EDT:
There has been only small timing adjustment to the overall forecast this weekend. It equals drier weather on Saturday but Sunday still remains wet. Here's a look at the same models I showed on Friday updated Saturday morning.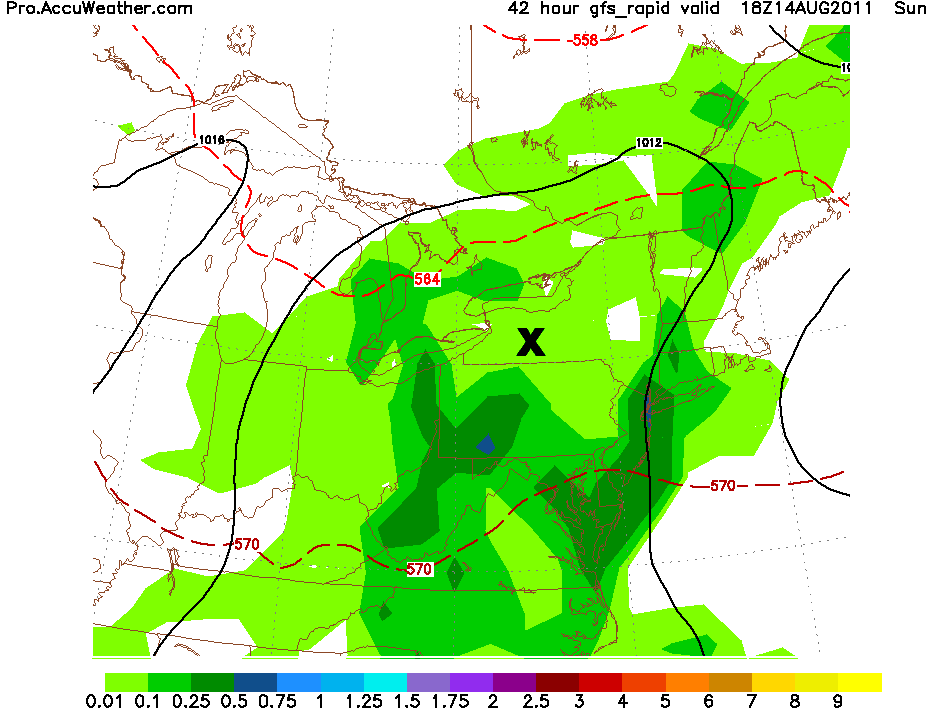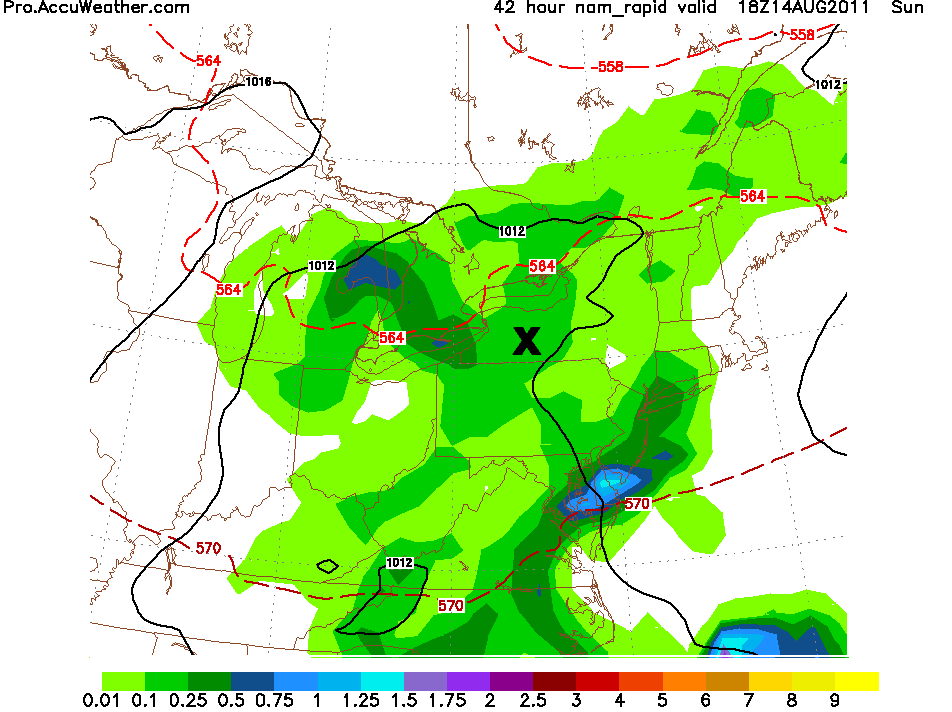 The forecast continues to call for two days of soaking rain from from Sunday into Monday. There is still a chance of a few isolated to scattered showers and even a thunderstorm late in the day Saturday but my gut feeling is that this activity holds off until after the Nationwide race.
Saturday night the rain arrives and it continues through Sunday into Monday. Obviously this doesn't bode well for Sunday's activities. Model probabilities for rain continue to range 80% to 100% for both Sunday and Monday. Bottom line it doesn't look good for racing on Sunday. I am stopping short of calling this a washout but that is definitely the direction I am leaning.
As a fan of the sport, I hope I am wrong. Yes, it is possible that my forecast is wrong but the likelihood and the data don't support that outcome. If you are a fan who is trying to decide whether you should go to the race on Sunday or wait it out for possible Monday, I can't and won't tell you what to do. I only provide my professional analyst so that fans can use that information to make the decision that is best for them.
SATURDAY:
9:30 a.m EDT
Nationwide Qualifying – Partly sunny – temp: 67
11:30 a.m EDT
Sprint Cup Qualifying – Partly sunny – temp: 77
2:00 p.m EDT
Nationwide Race – Partly sunny, possible scattered showers late in the race – temp: 84

SUNDAY:
1:00 p.m EDT
Sprint Cup Race – Cloudy with steady rain and possible thunderstorms – temp: 74
MONDAY:
12:00 p.m EDT
Sprint Cup Race – Likely showers and possible storms – temp: 73
Please follow me on Twitter @NASCAR_WXMAN for the latest Weather updates during the race.
This entry was posted by Brian Neudorff on August 13, 2011 at 1:28 AM, and is filed under 2011 NASCAR Season, NASCAR Weather, Nationwide Series, Race Forecast, Race Tracks, Race Weather, Race Weekend, Races, Sprint Cup Series, Watkins Glen International, Zippo 200. Follow any responses to this post through RSS 2.0.You can leave a response or trackback from your own site.