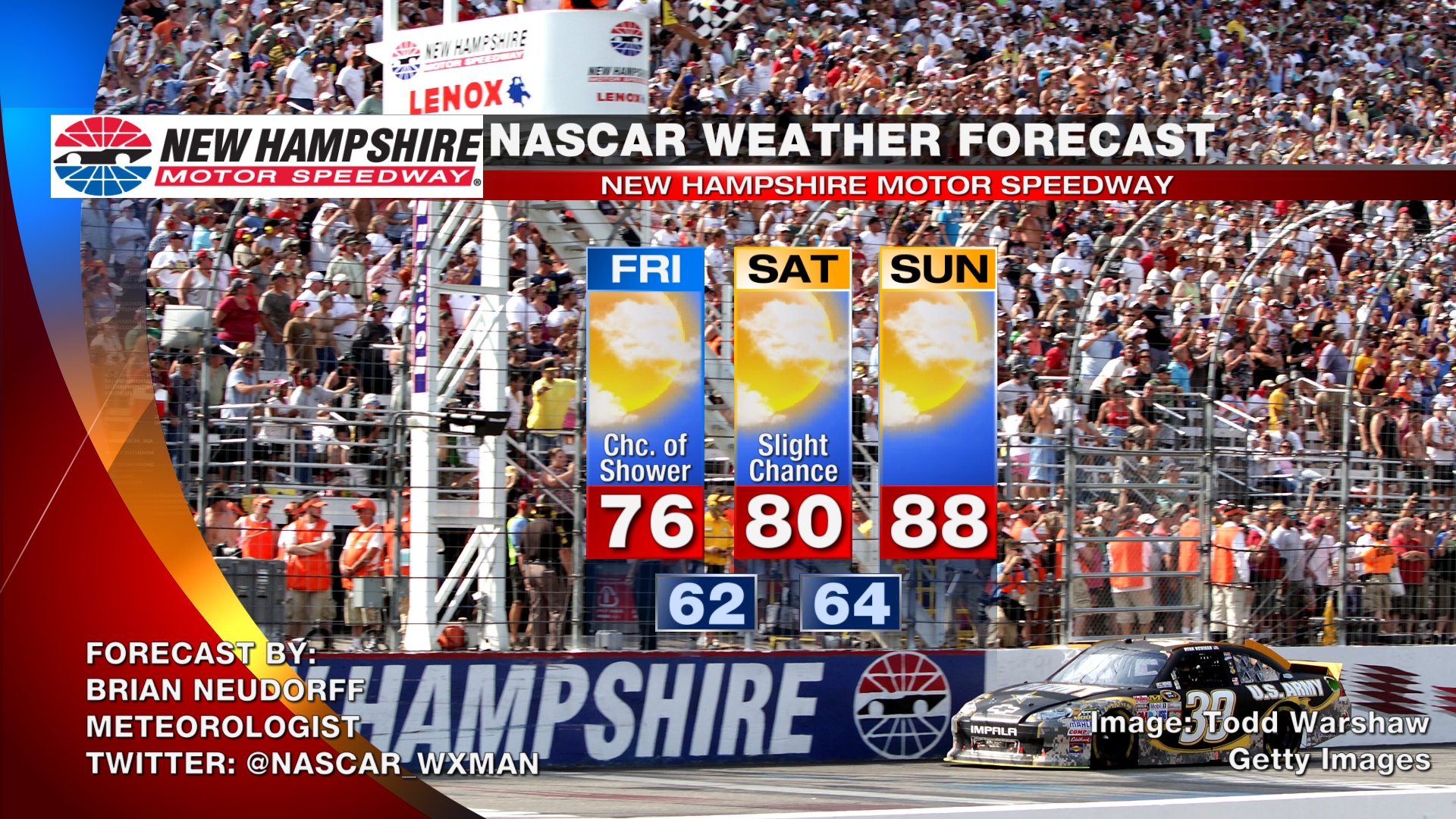 The weather forecast for New Hampshire Motor Speedway this weekend is mostly dry, but there are a few chances of showers and thunderstorms.
An area of high pressure will try to build in over the northeast and New England. It will battle with a stalled cold front of the New England coast. This stalled cold front will have one weak storm system move northward along it that could bring a chance of a shower later this afternoon, and possibly again Saturday morning.
The threat of rain is not very high and nothing to worry about this weekend. I honestly don't expect much if any delays from rain but if I had to give a probability of delays this weekend I'd say it was around 10 to 20 percent.
Like always I will keep an eye on the forecast and radar as we go through the weekend. For the latest updates follow me on Twitter @NASCAR_WXMAN and like me on Facebook.
Conditions in Loudon, NH: Click here for Current Weather Conditions – Look at Doppler Radar | Mobile Friendly Site | Mobile Radar
FRIDAY:
11:00 a.m EDT
Nationwide Series Final Practice – Mix of sun and clouds – temp: 72
12:00 p.m EDT
Sprint Cup Series Practice – Mix of sun and clouds – temp: 74
1:40 p.m EDT
Nationwide Series Final Practice – Mix of sun and clouds – temp: 76
3:40 p.m EDT
Sprint Cup Qualifying – Mix of sun and clouds, slight chance of a shower – temp: 75

SATURDAY:
9:00 a.m EDT
Sprint Cup Series Practice – Sun & clouds, slight chc. of a shower – temp: 67
10:05 a.m EDT
Nationwide Series Qualifying – Sun & clouds, slight chc. of a shower – temp: 69
11:20 a.m EDT
Sprint Cup Series Final Practice – Sun & clouds, slight chc. of a shower – temp: 74
3:30 p.m EDT
Nationwide Series Race – Mix of sun and clouds – temp: 80
SUNDAY:
12:00 p.m. EDT
Sprint Cup Series Pre-race – Partly sunny – temp: 82
1:00 p.m. EDT
Sprint Cup Series Race – Partly sunny – temp: 85
2:00 p.m. EDT
Sprint Cup Series Race – Partly sunny – temp: 87
3:00 p.m. EDT
Sprint Cup Series Race – Partly sunny – temp: 87
4:00 p.m. EDT
Sprint Cup Series Race – Partly sunny – temp: 88
Sprint Cup Series Race –Partly cloudy – temp: 80