NASCAR 2013 Daytona 500: Will Sunday's Race be Washed Out?
Weather remains fairly quiet today and tomorrow as NASCAR prepares for Sunday's Daytona 500. Warm temperatures are expected as we go through this afternoon and into Saturday. Highs will reach the low to mid 80s and it will even be a little humid. The only weather concern we have the next two days will be a slight chance of an isolated shower or thunderstorm on Saturday for the Nationwide Series race in the afternoon.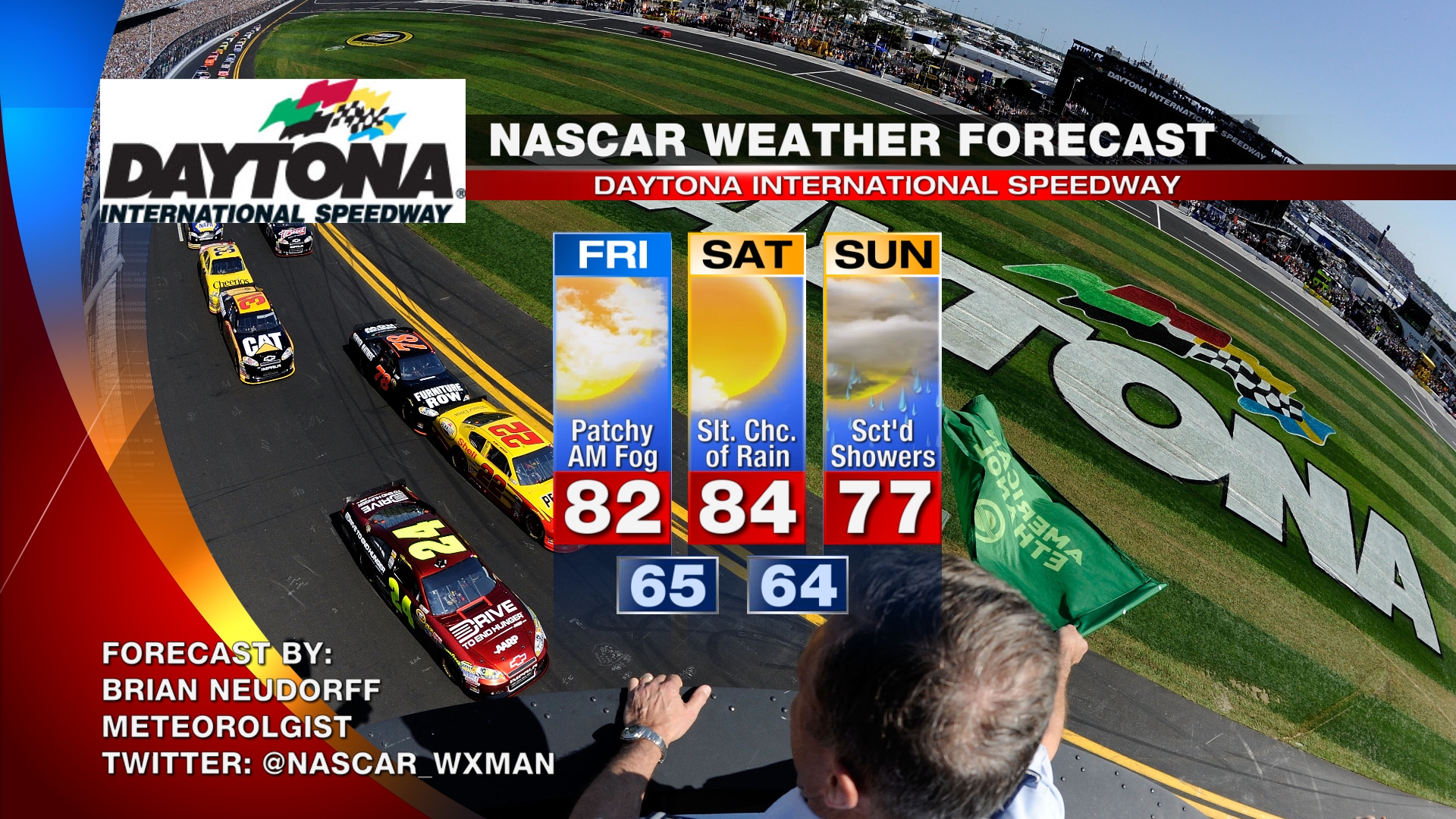 The main weather focus for this weekend at Daytona International Speedway is for Sunday's 55th running of the Great American Race. Cold front moves in across northern Florida Saturday night and into Sunday, bringing a chance of rain and even a few thunderstorms. The front stalls over Daytona Beach on Sunday, and this will be the focusing mechanism for shower and storm develop during the afternoon and evening.
Since Wednesday the threat of rain has continually increased over northern and central Florida. While I stop short of calling a second straight rain out for the Daytona 500, there could definitely be some rain delays during the day, and possibly even rain shortened. The new Air Titan drier at Daytona International Speedway may be put to the test.
My odds of us seeing the complete Daytona 500 on Sunday is between 50% and 60%. I don't like the trend I am seeing in the forecast, but it doesn't look like a washout. I think we will see scattered showers and thunderstorms form through the morning and into the afternoon. When I say scattered showers, imagine dropping a handful of marbles onto the floor and they scattered all over the place. You don't know where they will go and stop but they are there all over the floor. That's the challenge of forecasting this kind of rain.
Please follow me on Twitter @NASCAR_WXMAN and like me on Facebook for the latest weather updates through the weekend.
Conditions in Daytona Beach, FL: Click here for Current Weather Conditions – Look at Doppler Radar | Mobile Friendly Site | Mobile Radar
Complete Forecast and Schedule over on SBNation NASCAR Page.
This entry was posted by Brian Neudorff on February 22, 2013 at 11:45 AM, and is filed under 2013 NASCAR Season, Camping World Truck Series, Daytona 500, Daytona International Speedway, NASCAR Weather, Nationwide Series, Race Forecast, Race Tracks, Race Weather, Race Weekend, Races, Sprint Cup Series. Follow any responses to this post through RSS 2.0.You can leave a response or trackback from your own site.