NASCAR 2013 Daytona 500: Rain Chances Increase for the Weekend
Unlike other sports, NASCAR starts its season with their premiere event, the Daytona 500. Weather is always a concern for NASCAR, but of all the weather forecasts I do during the year, this is the most important . In the 54-year history of the Great American Race, the Daytona 500 has only ran once on a Monday and that was last year. The question is, will history repeat itself?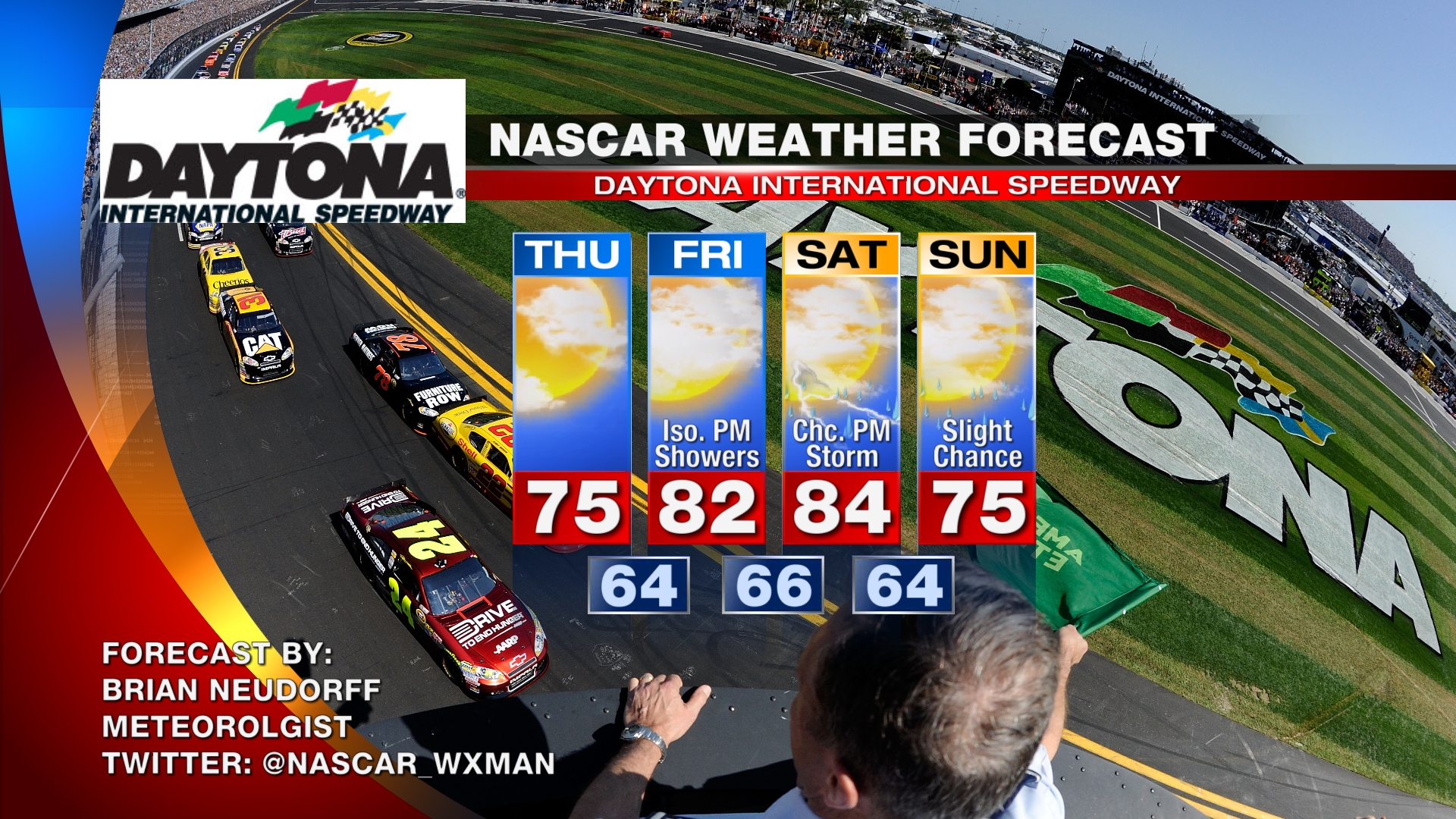 Weather forecast for today's Budweiser Duel is quite nice. Plenty of sunshine with temperatures this afternoon in the low to mid 70s.
Rain chances are on the increase for Daytona International Speedway Friday through Sunday. Friday's rain threat is minimum as a weak surface disturbance passes by late in the day and into the evening. I think just a slight chance of an isolated shower or thunderstorm Friday afternoon and evening, but shouldn't impact the Camping World Truck Series race.
Saturday, a cold front presses closer to north and central Florida during the afternoon. Like Friday, there is a slight chance of an afternoon shower or even an isolated thunderstorm. Although the chance of rain is worth mentioning, Saturday afternoon's Nationwide Series race should remain mostly dry with just a very small chance of a delay.
Cold front slides through and stalls close to Daytona International Speedway on Sunday. Rain chances have increased over the last few days, enough to mention the chance of a shower during the Great American race. This worries me some, but at this point I am confident in thinking we will see the 55th running of the Daytona 500 on Sunday. I am stopping short of saying the race is totally dry. Stalled cold fronts that close to an event always make me nervous. Couple miles shift north or south with these boundaries could mean the difference between a totally dry race, and a rain delayed race. Probability of seeing a race on Sunday, better than 70%.
Please follow me on Twitter @NASCAR_WXMAN and like me on Facebook for the latest weather updates through the weekend.
Conditions in Daytona Beach, FL: Click here for Current Weather Conditions – Look at Doppler Radar | Mobile Friendly Site | Mobile Radar
Complete Forecast and Schedule over on SBNation NASCAR Page.
This entry was posted by Brian Neudorff on February 21, 2013 at 3:11 AM, and is filed under 2013 NASCAR Season, Camping World Truck Series, Daytona 500, Daytona International Speedway, NASCAR Weather, Nationwide Series, Race Forecast, Race Tracks, Race Weather, Race Weekend, Races, Speedweek, Sprint Cup Series. Follow any responses to this post through RSS 2.0.You can leave a response or trackback from your own site.