NASCAR 2013 Daytona 500: How Will Rain Impact Sunday's Race?
The weather forecast for Sunday's Daytona 500 hasn't changed much in the last forty-eight hours. The forecast continues to show a chance of scattered rain showers and even an isolated thunderstorm for Sunday afternoon.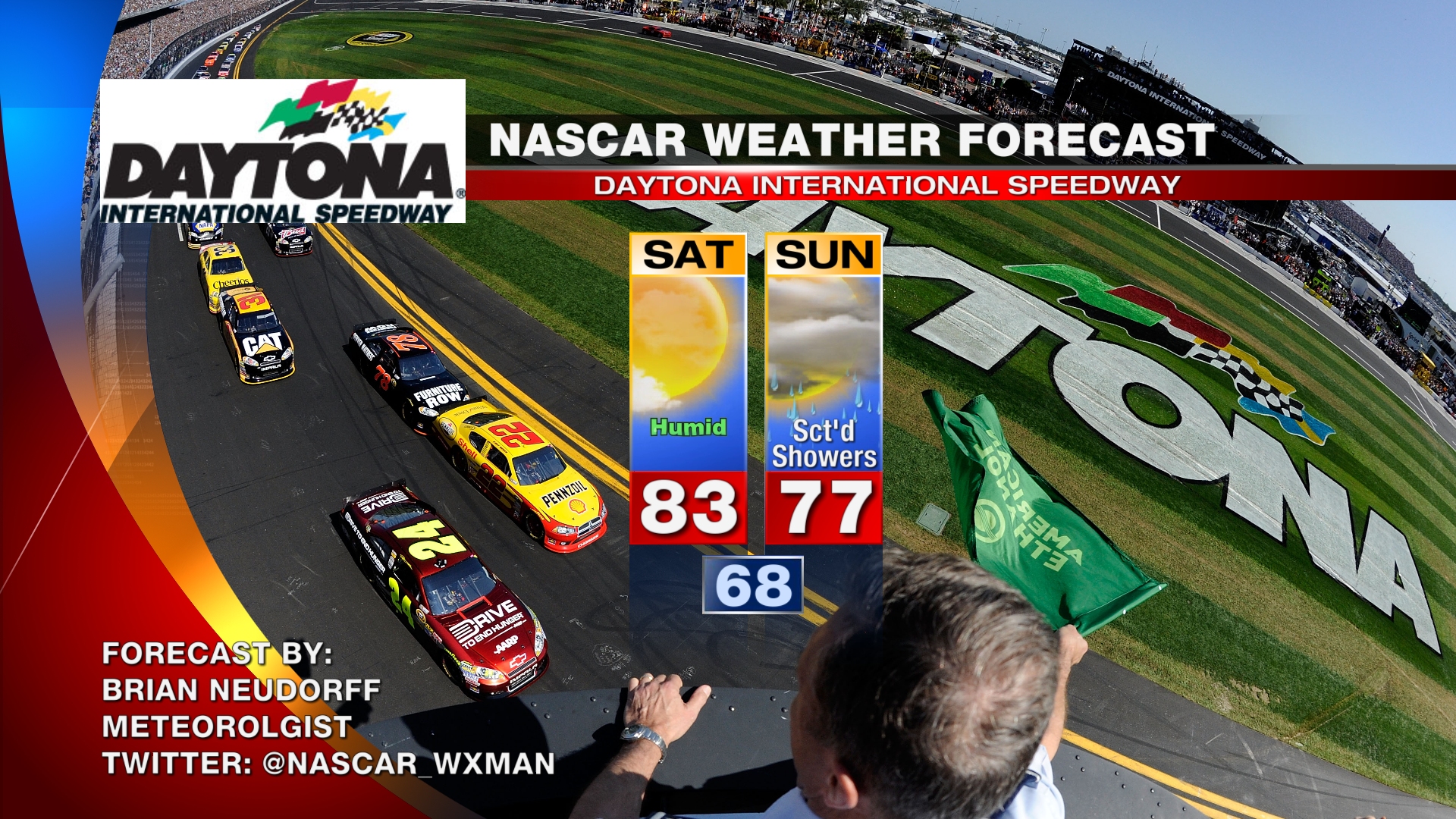 DO WE RACE SUNDAY? Yes, I think we race Sunday and it is official meaning we don't race on Monday. That could also mean a rain shortened race, but at this point I am still around 70% confident we see a complete Daytona 500.
WHAT ARE THE ODDS WE HAVE A TOTALLY RAIN FREE RACE? This is a little harder to answer. It's possible but based on the forecast I'd say the odds of a totally rain free race is somewhere between 30% and 40%.
WILL WE SEE ANY RAIN DELAYS? Anytime rain is in the forecast for a NASCAR race there is absolutely a possibility of a delay. I think at least one delays is very possible. It comes down to where will all the rain showers and thunderstorms develop and where will the move once they form? We won't know that until they show up on radar. As you will see me say many times this NASCAR season, "It's not the rain you see you need to worry about it's the rain you don't."
WHAT'S MONDAY'S FORECAST? I honestly don't think there is a need for this forecast but people have asked so I thought I'd mention it. It looks about the same as Sunday. Scattered showers and possible thunderstorm.
Please follow me on Twitter @NASCAR_WXMAN and like me on Facebook for the latest weather updates through the weekend.
Conditions in Daytona Beach, FL: Click here for Current Weather Conditions – Look at Doppler Radar | Mobile Friendly Site | Mobile Radar
Complete Forecast and Schedule over on SBNation NASCAR Page.
This entry was posted by Brian Neudorff on February 23, 2013 at 3:40 AM, and is filed under 2013 NASCAR Season, Daytona 500, Daytona International Speedway, NASCAR Weather, Nationwide Series, Race Forecast, Race Tracks, Race Weather, Race Weekend, Races, Sprint Cup Series. Follow any responses to this post through RSS 2.0.You can leave a response or trackback from your own site.