Major Severe Weather Outbreak Expected Saturday & Saturday Night Across Southern Plains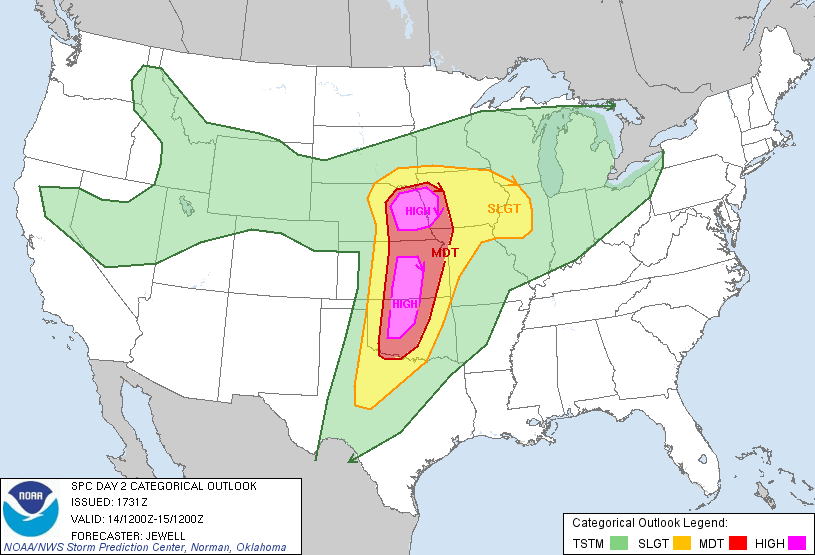 All the ingredients are coming together for a significant outbreak of severe weather Saturday and Saturday night across the Southern Plains. Locations expected to see the worse are from eastern Nebraska, into central Kansas and Oklahoma. From Lincoln, NE down to Wichita Kansas, including Oklahoma City, OK and down into Wichita Falls, TX. For all those living in or around the pink and red areas in the image above this is a LIFE THREATENING scenario with a significant tornado outbreak Saturday afternoon and Saturday night.
If you live in and around this area PLANNING STARTS NOW!!! Know where you will go if a tornado warning is issued for your town. Find the lowest most interior location location. If you live in a modular home, trailer, apartment complex find another place to be tomorrow afternoon. Call friends or family and see if you can wait out this storm with them if they have a house and a basement.
GET A ALL HAZARDS WEATHER RADIO AND A FULLY CHARGED CELL PHONE… This could be your primary source for weather information if you were to lose power. Most who live in these areas have a radio but if you don't go get one. If you live in a severe weather prone area, a weather radio is just as important as a smoke detector in your home. It can and does save lives.
For the cell phone my followers and readers have an opportunity to get a severe weather app designed to send push notifications to your iPhone. If you are in the National weather Service warning polygon it will notify you directly to your phone for Severe Thunderstorms warnings and watches, Tornado Warnings and Watches as well as Flood Warning and Watches.
KNOW THE DIFFERENCE BETWEEN A WATCH AND A WARNING!!! This can and will save your life. SEVERE WEATHER WATCH (Severe Thunderstorm or Tornado) will be issued hours in advance of any developing severe storms. It means severe weather is possible to form and you need to monitor the weather closely for the potential development later in the day.
SEVERE WEATHER WARNING (Thunderstorm or Tornado) means severe weather IS OCCURING NOW OR IT'S JUST MINUTES AWAY FROM OCCURING and you need to SEEK SHELTER NOW!!!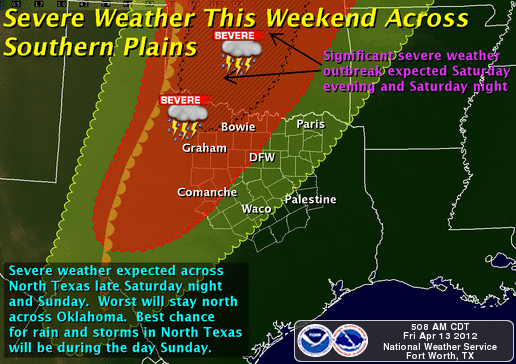 From the Dallas-Fort Worth NWS office:
A significant severe weather outbreak is expected across parts of the Southern Plains on Saturday evening into Saturday night. The worst of the severe weather is expected to be across parts of Oklahoma and Kansas where a tornado outbreak is expected. In North Texas…severe storms will be possible very late Saturday night into Sunday. Isolated tornadoes…damaging winds and large hail will be possible. In addition…locally heavy rainfall can be expected. The highest rain chances for North Texas will be during the day Sunday.

HOW WILL THIS IMPACT THE TEXAS NASCAR RACE?
Overall the forecast hasn't change much since last night for the Dallas-Fort Worth area Saturday night. The main threat of severe storms and potential tornadoes remains well to the northwest of Texas Motor Speedway.
There is a threat of an isolated to possibly scattered storms around Texas Motor Speedway for the Sprint Cup Samsung Mobile 500. Any storm that could or possible form has the potential to be severe with gusty winds and large hail. Although the risk is there the likelihood for anything to form or occur before or during the race is low and I feel we should get the race started and finished Saturday night. Just keep in mind one storm or shower could cause a delay I feel confident we can get this in.
Special offer for NASCAR WXMAN readers:
Purchase MyWARN by May 31st for a one time cost of $9.99. Purchases of MyWARN on or after June 1 will fall under an $11.99 annual subscription fee pricing structure.
When you initialize the app on your phone, be sure to enter the promotional code NASCARWX to be entered in a drawing for a $10 iTunes gift card. Ten lucky winners will be drawn from the NASCAR WXMAN purchasers on June 1, 2012. Don't forget to enter your email as well. MyWARN will never email you without your permission (unless you win!) nor divulge your email addresses to any other agencies.
Click the App Store logo below or to the right to view the app in the App Store.
This entry was posted by Brian Neudorff on April 13, 2012 at 1:56 PM, and is filed under 2012 NASCAR Season, NASCAR Weather, Race Forecast, Race Tracks, Race Weather, Race Weekend, Races, Samsung Mobile 500, Severe Weather, Sprint Cup Series, Texas Motor Speedway, Weather News. Follow any responses to this post through RSS 2.0.You can leave a response or trackback from your own site.