Weather News

0
As of 5 pm EDT the National Hurricane Center had tropical storm Isaac with winds sustained at 60 mph and gusts near 70 mph. Hurricane warnings have been issued for the Southeastern coast of Louisiana, Mississippi, Alabama and western tip of the Florida Panhandle. There are tropical Storm warnings in effect for western Florida coast. Satellite image has been showing signs of strengthening and once Isaac clears the Florida keys and enters the open waters of the Gulf of Mexico it will begin to strengthen.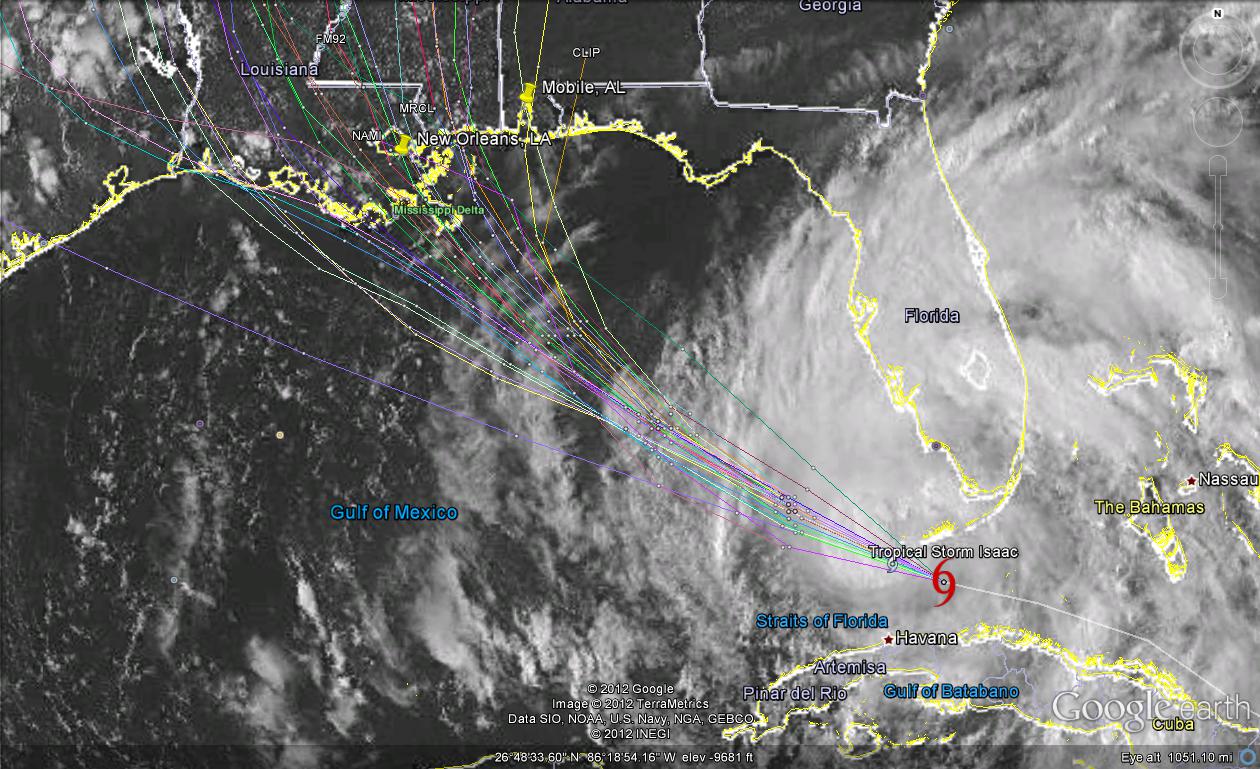 ISAAC'S TRACK:
There's still some disagreement amongst the computer models on where Isaac will make landfall. The models spread from the Alabama/Florida boarder to the central Louisiana coast. The models cluster along the eastern Louisiana coast and western Mississippi this is similar to where the National Hurricane Center has Isaac making landfall along the Louisiana/Mississippi boarder on Wednesday morning as a category 2.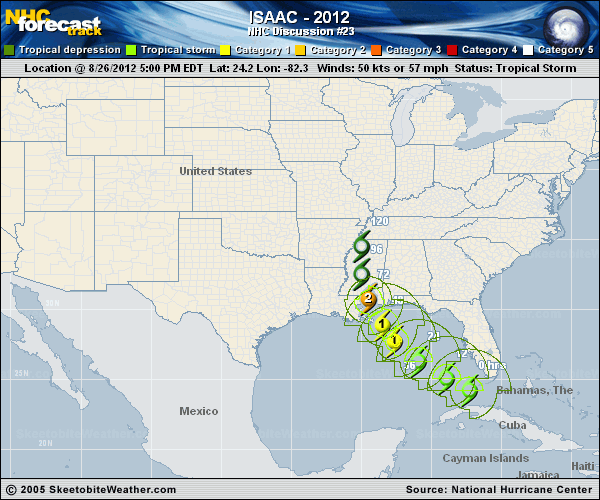 Dr. Jeff Masters from Wunderground.com has a good discussion Isaac's potential intensity:
The HWRF model continues to be the most bullish on Isaac's potential intensity, forecasting the storm to reach category 3 status. The GFDL is more reserved and suggest Isaac will only reach strong category 1 wind speeds before making landfall. Given current observations, the National Hurricane Center has backed off the previous forecast that Isaac will intensify to hurricane status around the Florida Keys. They now expect Isaac to remain at tropical storm status as it moves through the central Gulf of Mexico before finally strengthening as it approaches the coast and become a category 2 hurricane just before landfall.
From all I am seeing I have a growing concerned about another hurricane hitting or impacting New Orleans. My friend and avid tropical weather blogger Brendan Loy who first sounded the alarm about Katrina and New Orleans 7 years ago is sounding the alarm this time that action could and should be taken in preparing New Orleans for another devastating hurricane.
It appears from a press conference earlier today in New Orleans that the mayor says they will "Shelter in place" as New Orleans is under a Hurricane Warning.
Given the look of the look at the models I share Brendan's concern that anyone currently under a hurricane warning should take this storm serious and prepare for the worst and hope for the best.
"For the moment, I'm very concerned that the New Orleans government is again revealing itself to be completely incompetent and not up to the task — and is making itself dependent on the vagaries of atmospheric fate. In other words, Landrieu had better hope he's lucky, and the storm goes elsewhere (which it may), or doesn't get as strong as it clearly could (but might not). Landrieu paid lip service to the idea of "preparing for the worst" — but, categorically, he is not advising his residents to do that. He's advising them to prepare for a mid-range scenario, not the best case but certainly not the realistic worst case.

As a reminder of that worst case, here's a quartet of computer model maps, showing the forecasts by four of the most reliable models. Both the GFS (top right) and the HWRF (bottom left) would be very bad for New Orleans."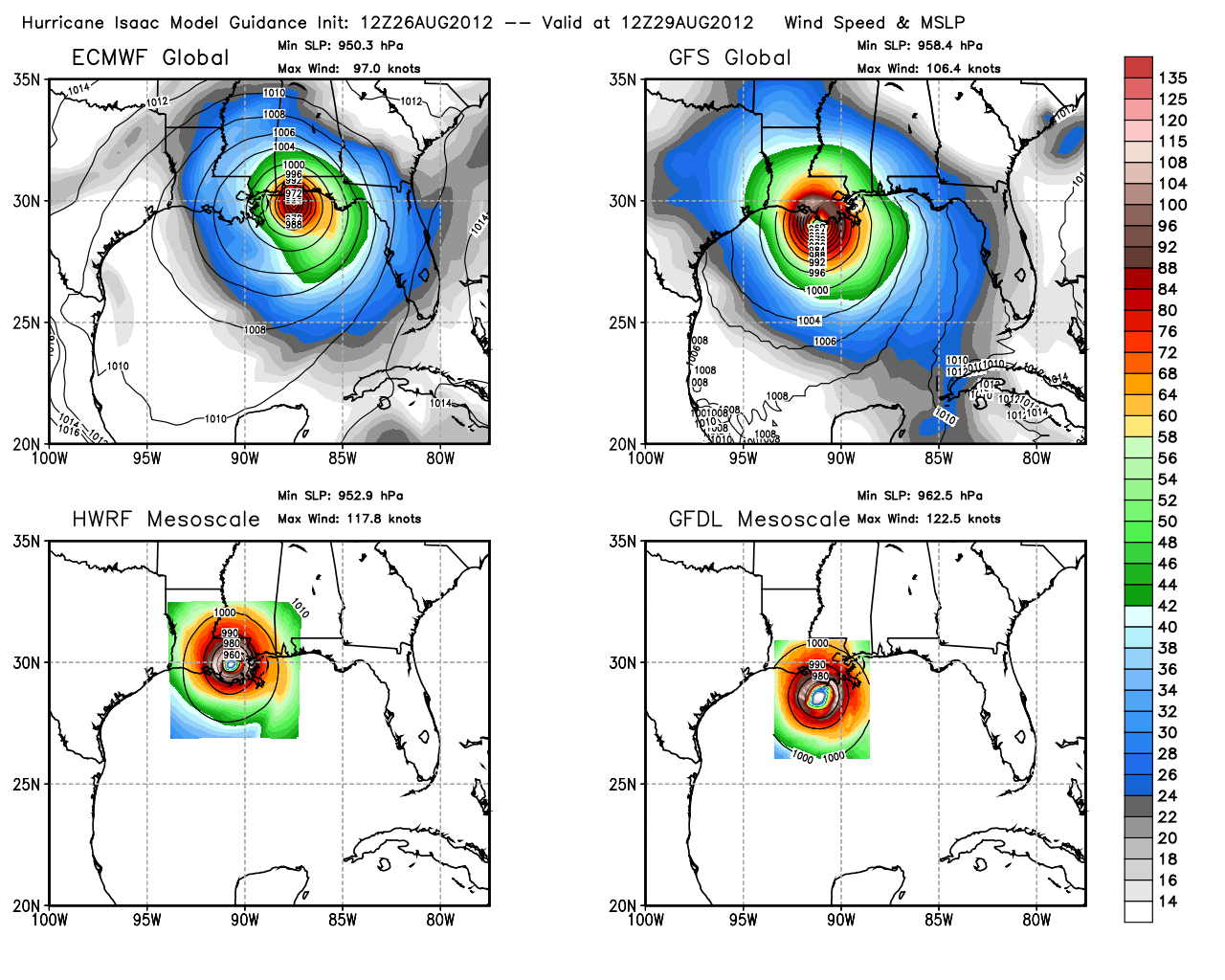 Isaac's Impact on Next Weekend's NASCAR Race?:
The number one question I've been getting on Twitter is, "How will Isaac impact NASCAR at Atlanta Motor Speedway this weekend?" Until we know where and when Isaac will make landfall we won't know where it goes after that. Some models take Isaac north into the Midwest where they desperately need the rain and a few move it into Georgia Thursday night/ Friday morning. I will continue to monitor.

1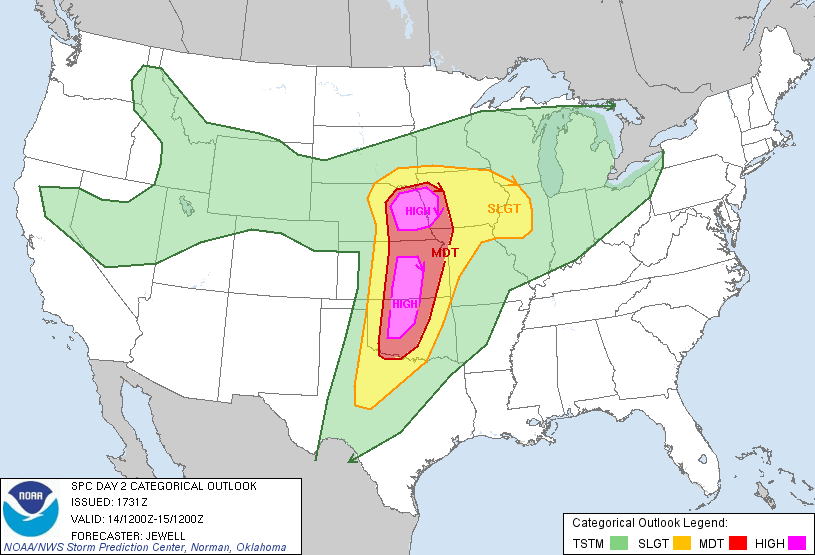 All the ingredients are coming together for a significant outbreak of severe weather Saturday and Saturday night across the Southern Plains. Locations expected to see the worse are from eastern Nebraska, into central Kansas and Oklahoma. From Lincoln, NE down to Wichita Kansas, including Oklahoma City, OK and down into Wichita Falls, TX. For all those living in or around the pink and red areas in the image above this is a LIFE THREATENING scenario with a significant tornado outbreak Saturday afternoon and Saturday night.
If you live in and around this area PLANNING STARTS NOW!!! Know where you will go if a tornado warning is issued for your town. Find the lowest most interior location location. If you live in a modular home, trailer, apartment complex find another place to be tomorrow afternoon. Call friends or family and see if you can wait out this storm with them if they have a house and a basement.
GET A ALL HAZARDS WEATHER RADIO AND A FULLY CHARGED CELL PHONE… This could be your primary source for weather information if you were to lose power. Most who live in these areas have a radio but if you don't go get one. If you live in a severe weather prone area, a weather radio is just as important as a smoke detector in your home. It can and does save lives.
For the cell phone my followers and readers have an opportunity to get a severe weather app designed to send push notifications to your iPhone. If you are in the National weather Service warning polygon it will notify you directly to your phone for Severe Thunderstorms warnings and watches, Tornado Warnings and Watches as well as Flood Warning and Watches.
KNOW THE DIFFERENCE BETWEEN A WATCH AND A WARNING!!! This can and will save your life. SEVERE WEATHER WATCH (Severe Thunderstorm or Tornado) will be issued hours in advance of any developing severe storms. It means severe weather is possible to form and you need to monitor the weather closely for the potential development later in the day.
SEVERE WEATHER WARNING (Thunderstorm or Tornado) means severe weather IS OCCURING NOW OR IT'S JUST MINUTES AWAY FROM OCCURING and you need to SEEK SHELTER NOW!!!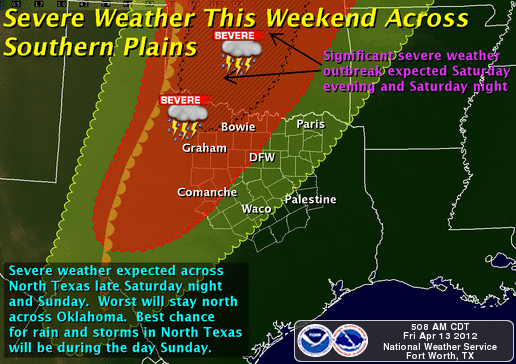 From the Dallas-Fort Worth NWS office:
A significant severe weather outbreak is expected across parts of the Southern Plains on Saturday evening into Saturday night. The worst of the severe weather is expected to be across parts of Oklahoma and Kansas where a tornado outbreak is expected. In North Texas…severe storms will be possible very late Saturday night into Sunday. Isolated tornadoes…damaging winds and large hail will be possible. In addition…locally heavy rainfall can be expected. The highest rain chances for North Texas will be during the day Sunday.

HOW WILL THIS IMPACT THE TEXAS NASCAR RACE?
Overall the forecast hasn't change much since last night for the Dallas-Fort Worth area Saturday night. The main threat of severe storms and potential tornadoes remains well to the northwest of Texas Motor Speedway.
There is a threat of an isolated to possibly scattered storms around Texas Motor Speedway for the Sprint Cup Samsung Mobile 500. Any storm that could or possible form has the potential to be severe with gusty winds and large hail. Although the risk is there the likelihood for anything to form or occur before or during the race is low and I feel we should get the race started and finished Saturday night. Just keep in mind one storm or shower could cause a delay I feel confident we can get this in.
Special offer for NASCAR WXMAN readers:
Purchase MyWARN by May 31st for a one time cost of $9.99. Purchases of MyWARN on or after June 1 will fall under an $11.99 annual subscription fee pricing structure.
When you initialize the app on your phone, be sure to enter the promotional code NASCARWX to be entered in a drawing for a $10 iTunes gift card. Ten lucky winners will be drawn from the NASCAR WXMAN purchasers on June 1, 2012. Don't forget to enter your email as well. MyWARN will never email you without your permission (unless you win!) nor divulge your email addresses to any other agencies.
Click the App Store logo below or to the right to view the app in the App Store.