Duck Commander 500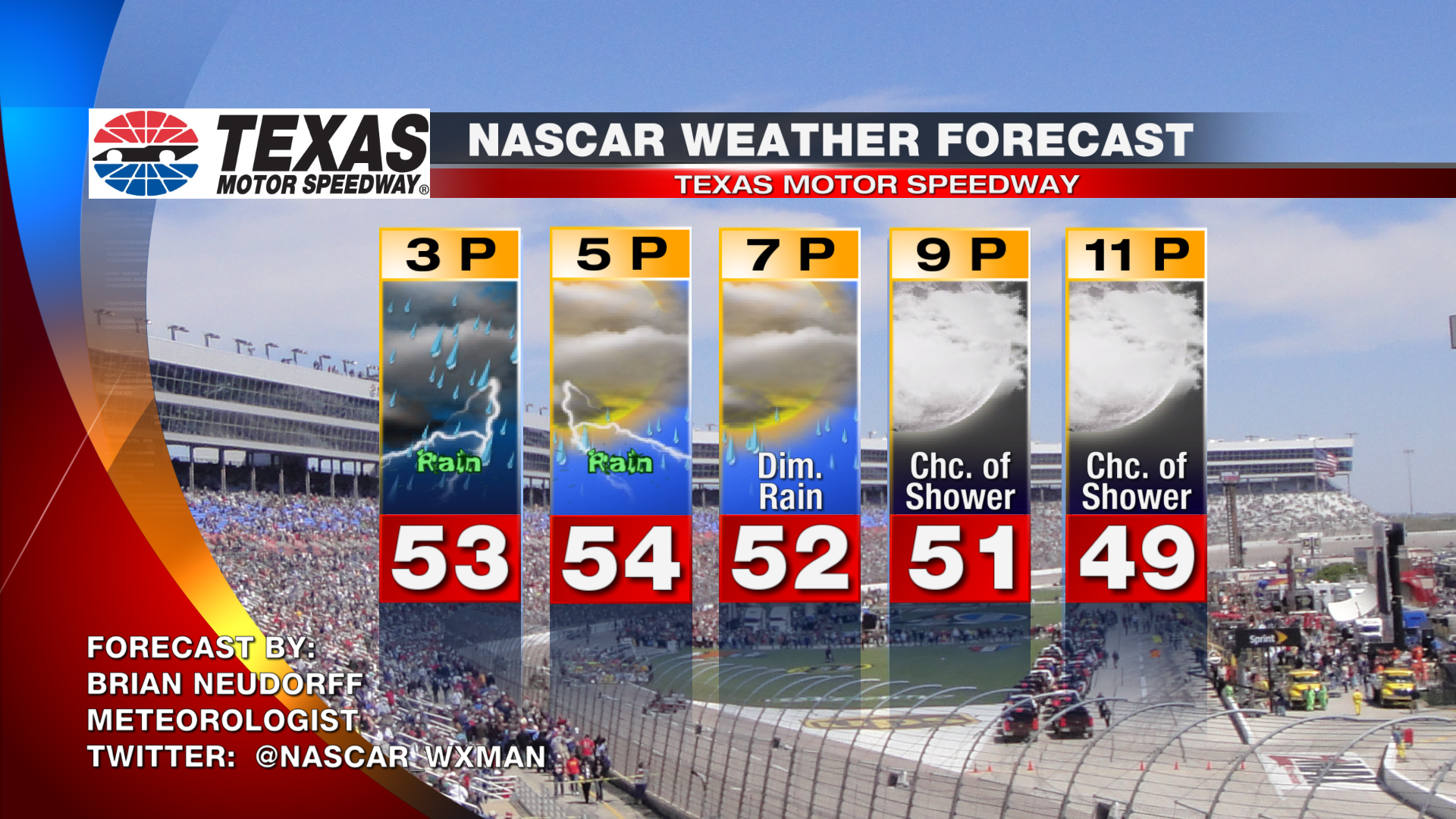 Rain showers and a few storms storms will pass over Texas Motor Speedway this morning and into the afternoon. The odds of starting the Duck Commander 500 on time this afternoon (green flag at approximately  3:16 p.m. EDT) is less than 10 percent. I'd say the odds are the same for seeing any racing this afternoon.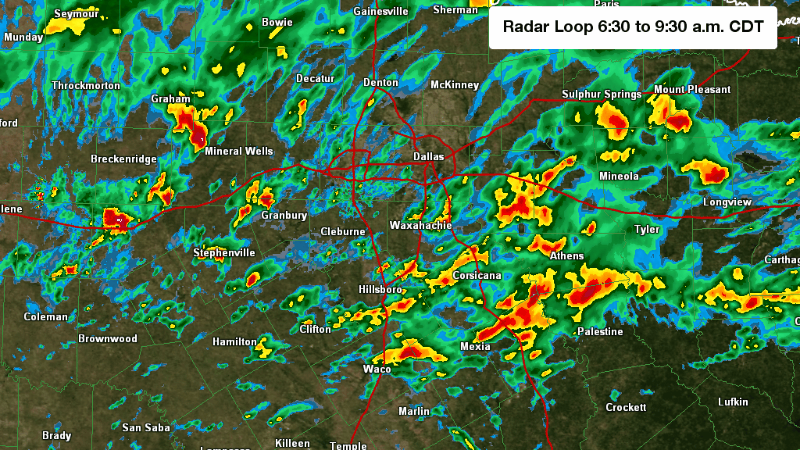 The good news, like Bristol and Daytona earlier this season, we should be able to race today, just under the lights later this evening and tonight. Rain showers are anticipated to start to diminishing over Texas Motor Speedway between 6 p.m. EDT and 8 p.m. EDT. Rain and any remaining storms begin to break up creating more opportunities to dry the track. Id' give the odds of racing later this evening and tonight to be between 60 and 70 percent.
Despite all the rain that NASCAR has had to endure this season at several tracks so far this season there has yet to be a Monday race. I don't think we break that streak today and we go racing later tonight.
Follow me @NASCAR_WXMAN and like me on Facebook for the latest Weather updates through the weekend.
Conditions in Fort Worth, TX: Click here for Current Weather Conditions – Look at Doppler Radar | Mobile Friendly Site | Mobile Radar
SUNDAY:
1:00 p.m. EDT
Sprint Cup pre-race – Rain & possible t'storms – temp: 50
2:00 p.m. EDT
Sprint Cup pre-race – Rain & possible t'storms – temp: 51
3:00 p.m. EDT
Sprint Cup race – Rain & possible t'storms – temp: 53
4:00 p.m. EDT
Sprint Cup race – Rain & possible t'storms – temp: 54
5:00 p.m. EDT
Sprint Cup race – Rain & possible t'storms– temp: 54
6:00 p.m. EDT
Sprint Cup race – Cloudy, scattered showers & storms – temp: 53
7:00 p.m. EDT
Sprint Cup race – Cloudy, scattered showers & storms – temp: 52
8:00 p.m. EDT
Sprint Cup race – Cloudy, scattered showers & storms – temp: 51
9:00 p.m. EDT
Sprint Cup race – Cloudy, chance of a shower/storm – temp: 51
10:00 p.m. EDT
Sprint Cup race – Cloudy, chance of a shower/storm – temp: 50
11:00 p.m. EDT
Sprint Cup race – Cloudy, chance of a shower/storm – temp: 49