New Hampshire Motor Speedway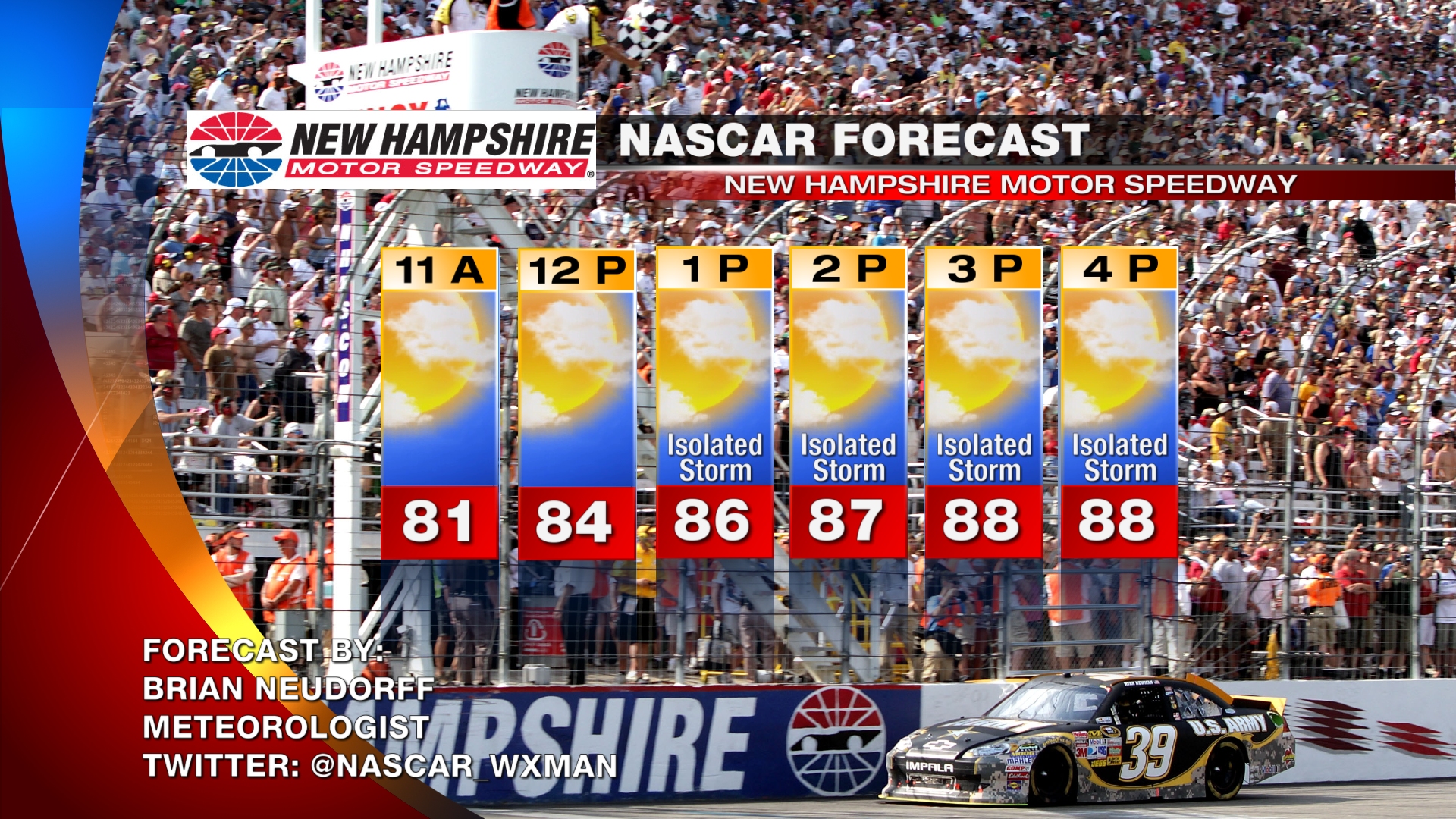 I feel very confident that the NASCAR weather forecast at New Hampshire Motor Speedway for today's Sprint Cup race is dry, but I've added a chance of an isolated storm.
Overall the weather forecast remains unchanged but with warmer temperatures and more moisture in the air a quick moving isolated shower or storm is possible, especially after at or after 2:00 p.m. EDT.
I am sticking with the mostly dry weather forecast for this afternoon, but isolated storms could pop-up on radar, and while the odds are very low (less than 10% in my opinion) one could come close or hit the track. For the latest updates follow me on Twitter @NASCAR_WXMAN and like me on Facebook.
Conditions in Loudon, NH: Click here for Current Weather Conditions – Look at Doppler Radar | Mobile Friendly Site | Mobile Radar
SUNDAY:
12:00 p.m. EDT
Sprint Cup Series Pre-race – Partly sunny – temp: 84
1:00 p.m. EDT
Sprint Cup Series Race – Partly sunny, chc. of isolated storm – temp: 86
2:00 p.m. EDT
Sprint Cup Series Race – Partly sunny, chc. of isolated storm – temp: 87
3:00 p.m. EDT
Sprint Cup Series Race – Partly sunny, chc. of isolated storm – temp: 88
4:00 p.m. EDT
Sprint Cup Series Race – Partly sunny, chc. of isolated storm – temp: 88