Kentucky Speedway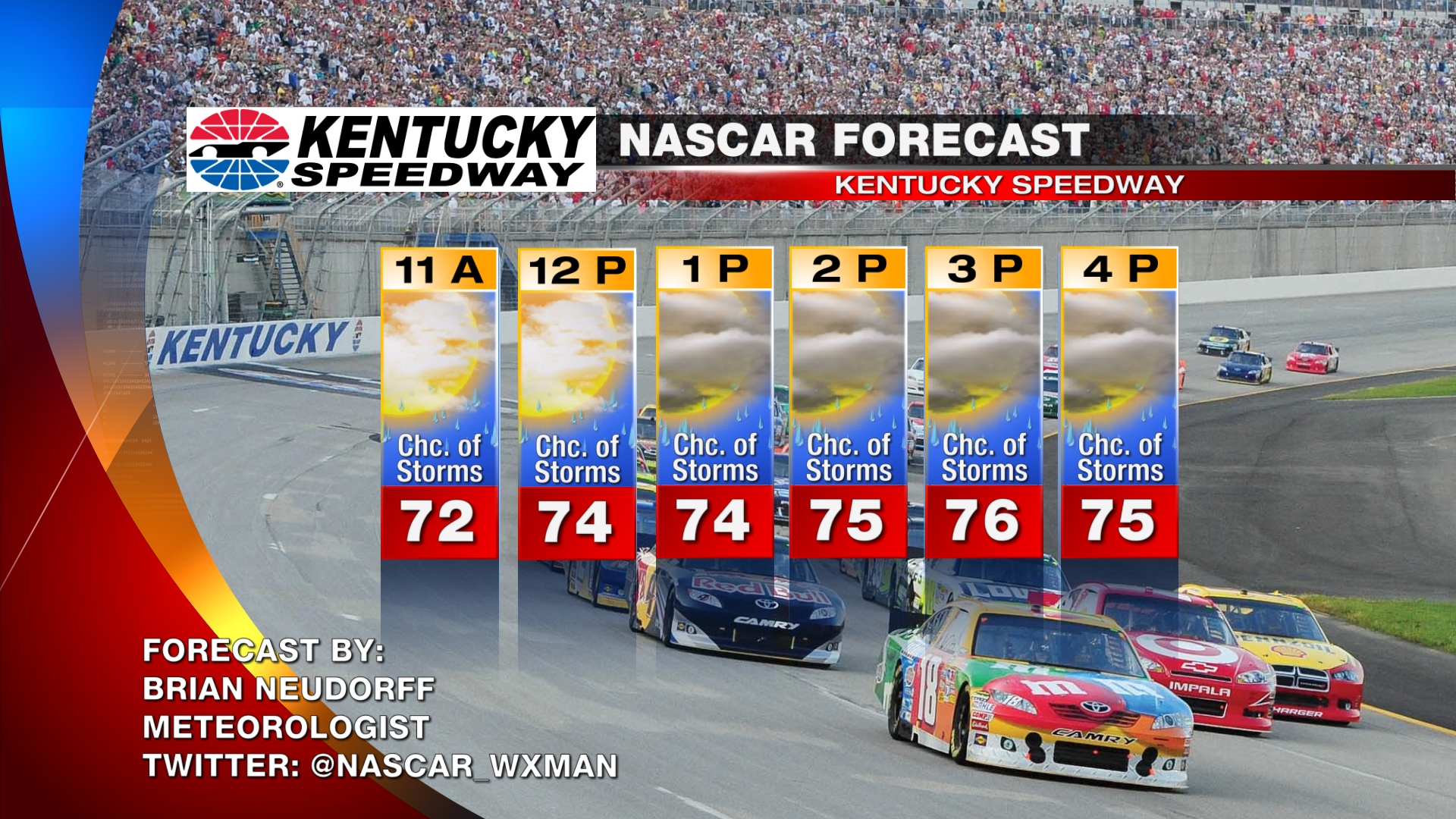 Rain postponed the NASCAR Quaker State 400 Sprint Cup race at Kentucky Speedway until noon Sunday. Unfortunately the same weather system that rained out Saturday's race, will bring more rain showers and storms for later this afternoon and evening.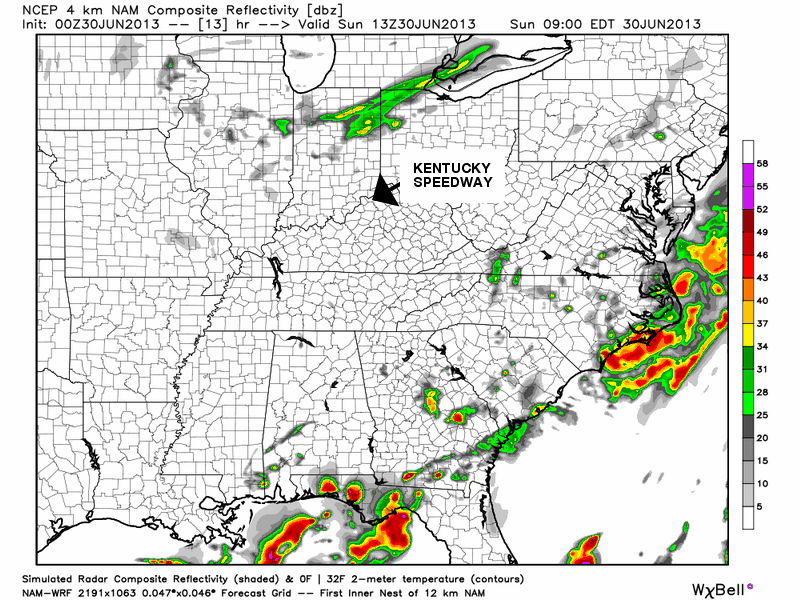 Upper level low that sparked wide spread showers and thunderstorms across Indiana, Ohio and Kentucky on Saturday will stall out over Indiana this afternoon. Like Saturday, when you combine this system and the heating of the day you get another round of widely scattered showers and thunderstorms from midday into the late afternoon and early evening.
The above forecast model is the same model I used Saturday morning. This particular forecast model did a good job at locating and placing the clusters of showers and storms that occurred on Saturday. While still showing the threat of rain and storms for Sunday afternoon and evening across the coverage appears to be less than it was yesterday. Keep in mind this is just one models interpretation of the atmosphere at this given time and should only be used as a guide.
WHAT ARE THE ODDS NASCAR GETS TO RACE TODAY? I think the odds are a little better than they were on Saturday, only because NASCAR is starting the race at noon instead of the evening. I put the odds of racing at around 60%.
WHAT ARE THE ODDS WE GET AN OFFICIAL RACE? When I say "official" race I mean a race that gets to halfway or beyond. I think the odds are still around 50 to 60%. Starting at noon means NASCAR has all afternoon and evening to try and get this race complete.
I think the earlier start time helps NASCAR get at least an official race today. If showers and storms form around and miss the track for a couple of hours then we should be able to get this race complete. Rain showers will be a threat and don't be surprised if we see more rain delays this afteroon.
Please follow me on Twitter @NASCAR_WXMAN and like me on Facebook for the latest weather and radar updates for today's race at Kentucky Speedway.
Conditions in Sparta, KY:Click here for Current Weather Conditions – Look at Doppler Radar | Mobile Friendly Site | Mobile Radar
SUNDAY:
12 p.m. EDT
Sprint Cup Series Race – Sun & clouds, chance of showers and storms – temp: 74
1 p.m. EDT
Sprint Cup Series Race – Sun & clouds, chance of showers and storms – temp: 74
2 p.m. EDT
Sprint Cup Series Race – Possible showers and storms – temp: 75
3 p.m. EDT
Sprint Cup Series Race – Possible showers and storms – temp: 76
4 p.m. EDT
Sprint Cup Series Race – Possible showers and storms – temp: 75