Dover International Speedway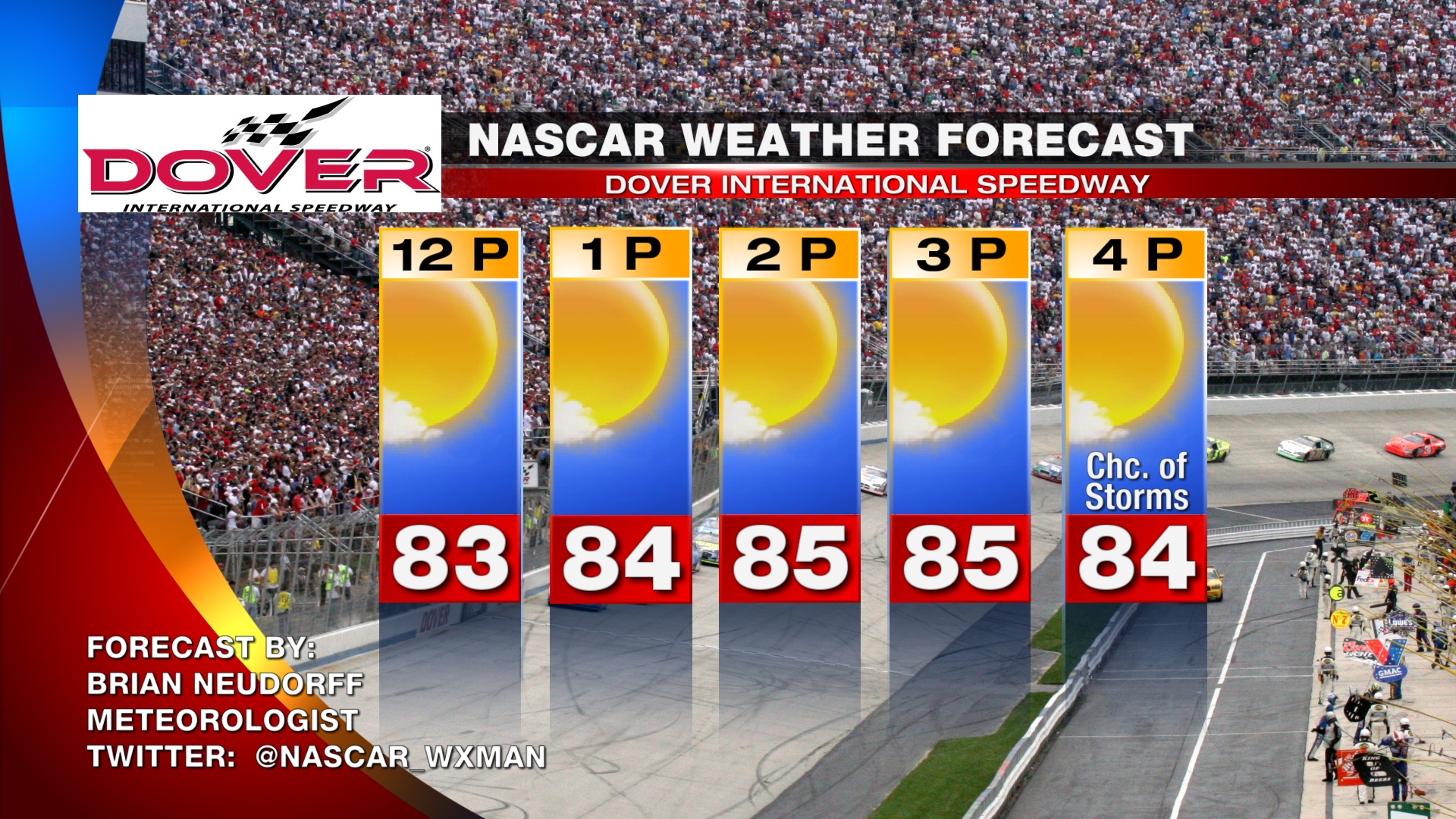 I expect the NASCAR Sprint Cup race today at Dover International Speedway will be mostly dry and continued very warm and humid, like it's been all weekend. Highs this afternoon once again up into the mid to upper 80s.
The only concern with the forecast is an approaching cold front. This has been mentioned the last couple of days but it appears timing is still on the side of NASCAR. The showers and possible storms are not expected to arrive in Dover until late afternoon, more like early afternoon. The main concern for storms and strong to severe storms is when the race is over and fans are heading home or to camping. Heavy rain, lightning and strong to potentially damaging winds are possible.
While there is a small threat of showers and storms in the afternoon, it isn't until late afternoon and early evening, I expect NASCAR to race and finish today.
Please follow me on Twitter @NASCAR_WXMAN and like me on Facebook for the latest weather updates through the weekend.
Conditions in Dover, DE: Click here for Current Weather Conditions | Look at Doppler Radar | Mobile Friendly Site |Mobile Radar
SUNDAY:
12 p.m. EDT
Sprint Cup Pre-race – Sun and clouds, hot and humid – temp: 83
1 p.m. EDT
Sprint Cup Race – Sun and clouds, hot and humid – temp: 84
2 p.m. EDT
Sprint Cup Race – Sun and clouds, hot and humid – temp: 85
3 p.m. EDT
Sprint Cup Race – Sun and clouds, hot and humid – temp: 85
4 p.m. EDT
Sprint Cup Race – Sun and clouds, hot and humid, chance of a shower or storm – temp: 84