Darlington Raceway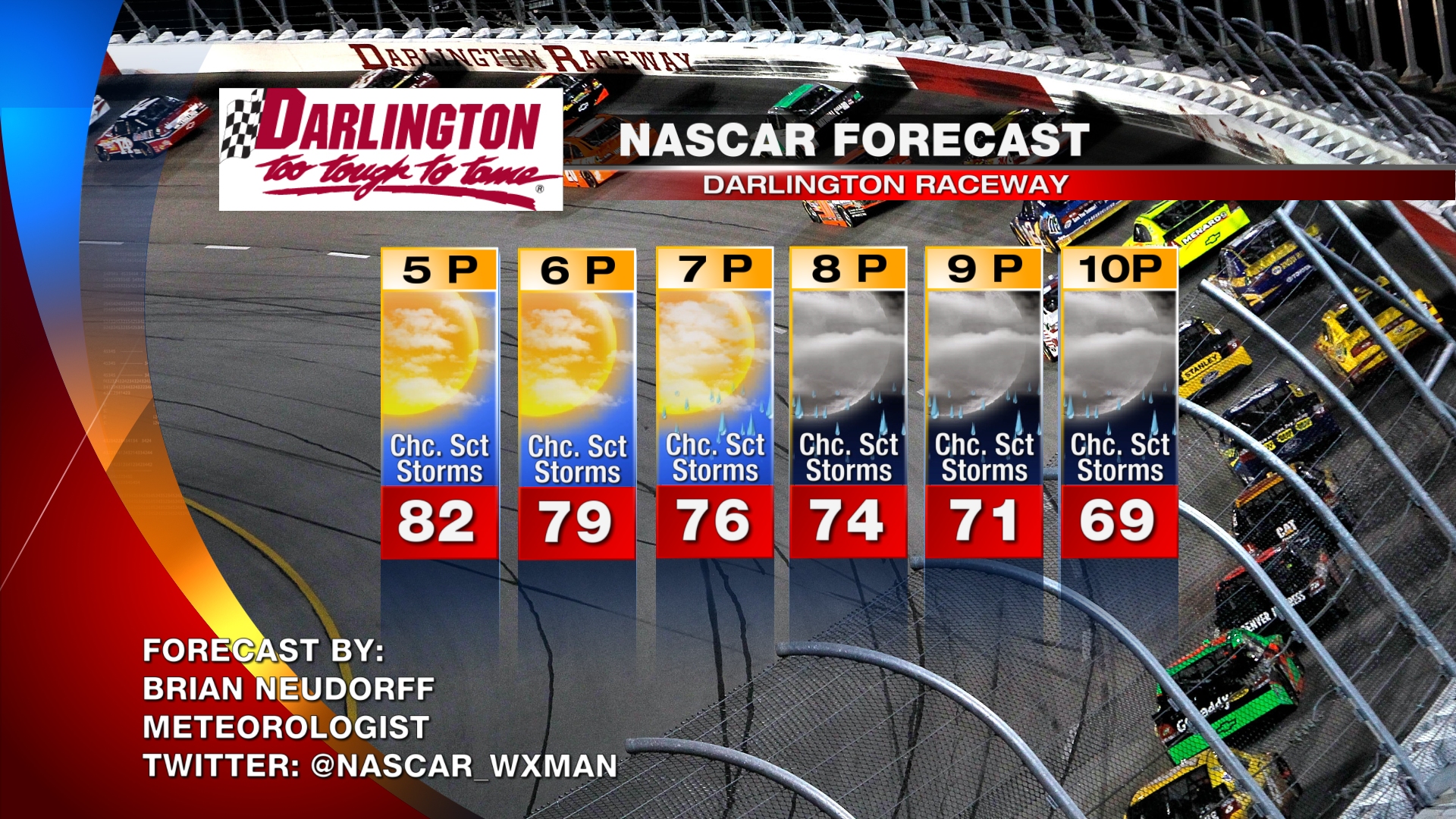 Conditions at Darlington SC:
Click here for Current Weather Conditions – Look at Doppler Radar | Mobile Friendly Site | Mobile Radar
Cold front approaching South Carolina today will increase the threat of scattered to isolated showers and thunderstorm this afternoon and evening. It is possible some of these storms could be strong to severe, with possible hail and gusty damaging winds. While lightning doesn't make a storm severe, this is a danger when dealing with an outdoor activity like a NASCAR race. The rule for protecting yourself from lightning is if you can hear thunder, you can be struck by lightning. At the first sound of thunder, you should seek shelter and wait out the storm.
It will be mostly to partly cloudy today, temperatures this afternoon a little cooler, but still warm and muggy reaching the mid 80s. There will be a breezy southwest wind between 10 and 20 mph, but the main weather concern remains the threat of scattered showers and storms later today and tonight.
Hi-res computer model for 7 p.m. EDT this evening showing possible development of a line of showers and storms for this evening. This is not certain but it tells me that we will need to watch the radar before and during the race for possible storms that could cause delays.
This is the same hi-res forecast model for 9 p.m. EDT, this shows potentially large and strong storm moving into Darlington, SC. Again this is just one computer forecast models interpretation of what could happen. What it tells me is NASCAR and fans need to be prepared for possible rain delays.
Any storm that develops has the potential to be strong and even severe. The Storm Prediction Center has northeastern South Carolina in a slight risk for severe weather. This could mean storms could produce strong damaging winds and hail. With any threat of severe storms an isolated tornado is possible but very unlikely.
Given the scattered nature of these storms, the probability of a washout remains low. I still think it is at 30% or less. The odds for a possible delay or two has gone up a little to around 50% with the odds of getting an "official race" (reaching halfway or beyond) is still around 60%, and a complete rain free race is a little less between 40 to 50%.
With scattered showers and storms, you never know where they are going to form or go until they develop on radar. We saw that last weekend at Talladega, one minute the radar looks clear the next you have a rapidly growing storm that brings hail to the track and you have to wait out a 3 1/2 hour rain delay. I hope we don't see that tonight, but delays are possible.
Because of the uncertainty follow me on Twitter @NASCAR_WXMAN and like me on Facebook for the latest weather updates throughout the weekend.