Non NASCAR Weather News

0
As of 5 pm EDT the National Hurricane Center had tropical storm Isaac with winds sustained at 60 mph and gusts near 70 mph. Hurricane warnings have been issued for the Southeastern coast of Louisiana, Mississippi, Alabama and western tip of the Florida Panhandle. There are tropical Storm warnings in effect for western Florida coast. Satellite image has been showing signs of strengthening and once Isaac clears the Florida keys and enters the open waters of the Gulf of Mexico it will begin to strengthen.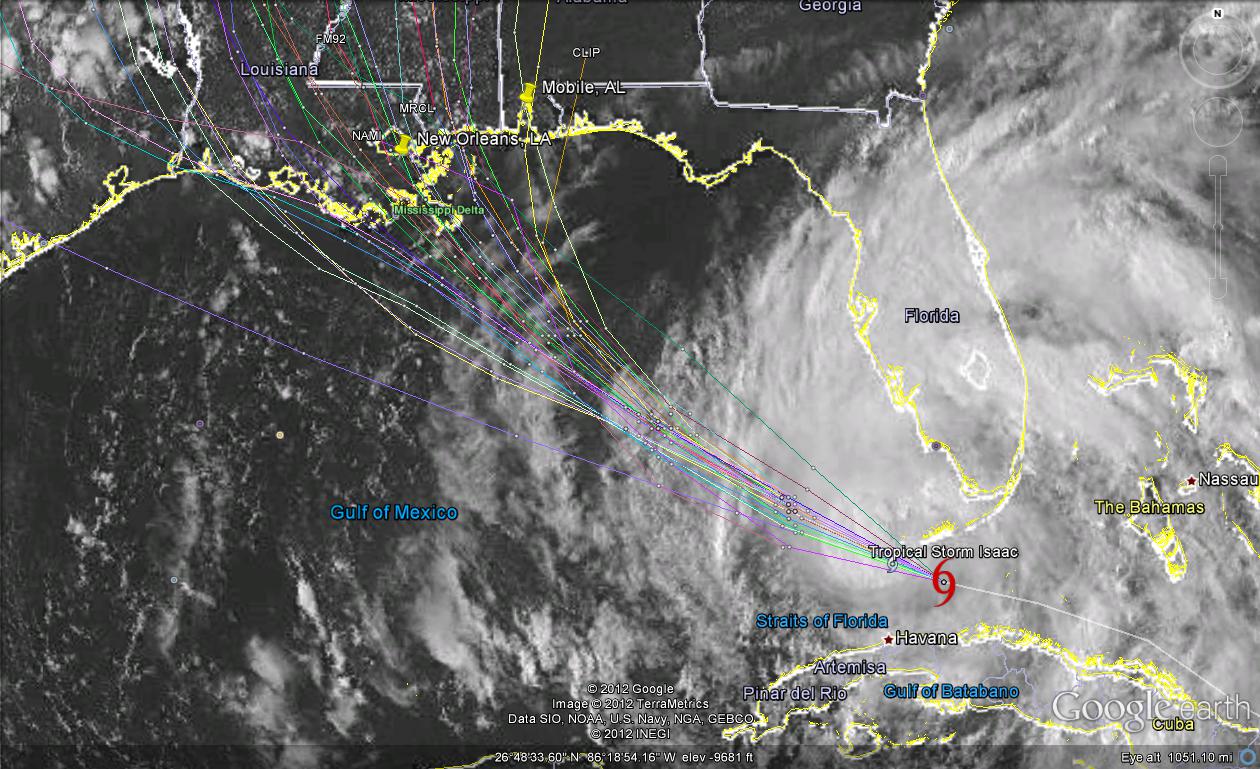 ISAAC'S TRACK:
There's still some disagreement amongst the computer models on where Isaac will make landfall. The models spread from the Alabama/Florida boarder to the central Louisiana coast. The models cluster along the eastern Louisiana coast and western Mississippi this is similar to where the National Hurricane Center has Isaac making landfall along the Louisiana/Mississippi boarder on Wednesday morning as a category 2.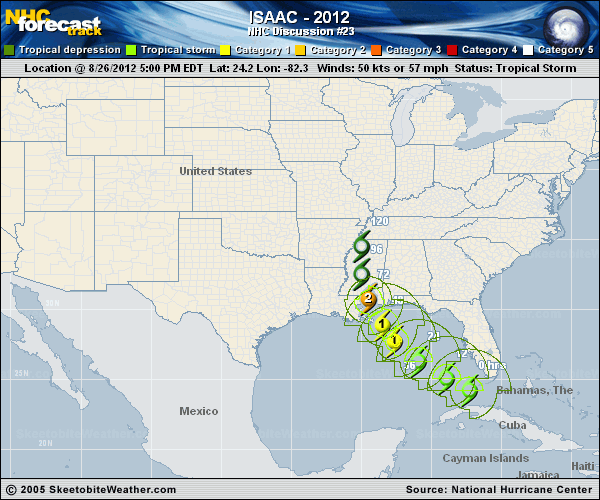 Dr. Jeff Masters from Wunderground.com has a good discussion Isaac's potential intensity:
The HWRF model continues to be the most bullish on Isaac's potential intensity, forecasting the storm to reach category 3 status. The GFDL is more reserved and suggest Isaac will only reach strong category 1 wind speeds before making landfall. Given current observations, the National Hurricane Center has backed off the previous forecast that Isaac will intensify to hurricane status around the Florida Keys. They now expect Isaac to remain at tropical storm status as it moves through the central Gulf of Mexico before finally strengthening as it approaches the coast and become a category 2 hurricane just before landfall.
From all I am seeing I have a growing concerned about another hurricane hitting or impacting New Orleans. My friend and avid tropical weather blogger Brendan Loy who first sounded the alarm about Katrina and New Orleans 7 years ago is sounding the alarm this time that action could and should be taken in preparing New Orleans for another devastating hurricane.
It appears from a press conference earlier today in New Orleans that the mayor says they will "Shelter in place" as New Orleans is under a Hurricane Warning.
Given the look of the look at the models I share Brendan's concern that anyone currently under a hurricane warning should take this storm serious and prepare for the worst and hope for the best.
"For the moment, I'm very concerned that the New Orleans government is again revealing itself to be completely incompetent and not up to the task — and is making itself dependent on the vagaries of atmospheric fate. In other words, Landrieu had better hope he's lucky, and the storm goes elsewhere (which it may), or doesn't get as strong as it clearly could (but might not). Landrieu paid lip service to the idea of "preparing for the worst" — but, categorically, he is not advising his residents to do that. He's advising them to prepare for a mid-range scenario, not the best case but certainly not the realistic worst case.

As a reminder of that worst case, here's a quartet of computer model maps, showing the forecasts by four of the most reliable models. Both the GFS (top right) and the HWRF (bottom left) would be very bad for New Orleans."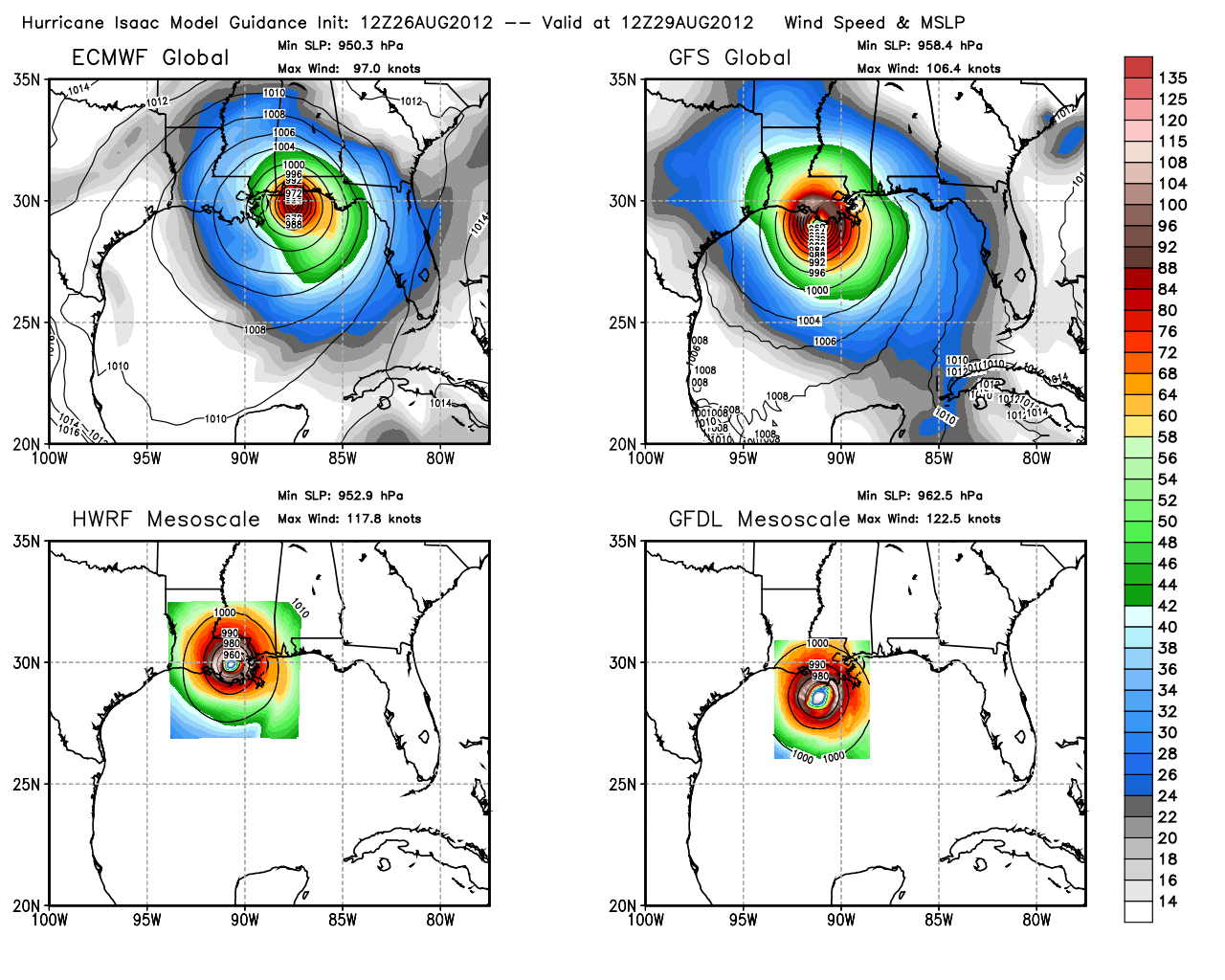 Isaac's Impact on Next Weekend's NASCAR Race?:
The number one question I've been getting on Twitter is, "How will Isaac impact NASCAR at Atlanta Motor Speedway this weekend?" Until we know where and when Isaac will make landfall we won't know where it goes after that. Some models take Isaac north into the Midwest where they desperately need the rain and a few move it into Georgia Thursday night/ Friday morning. I will continue to monitor.