Nationwide Series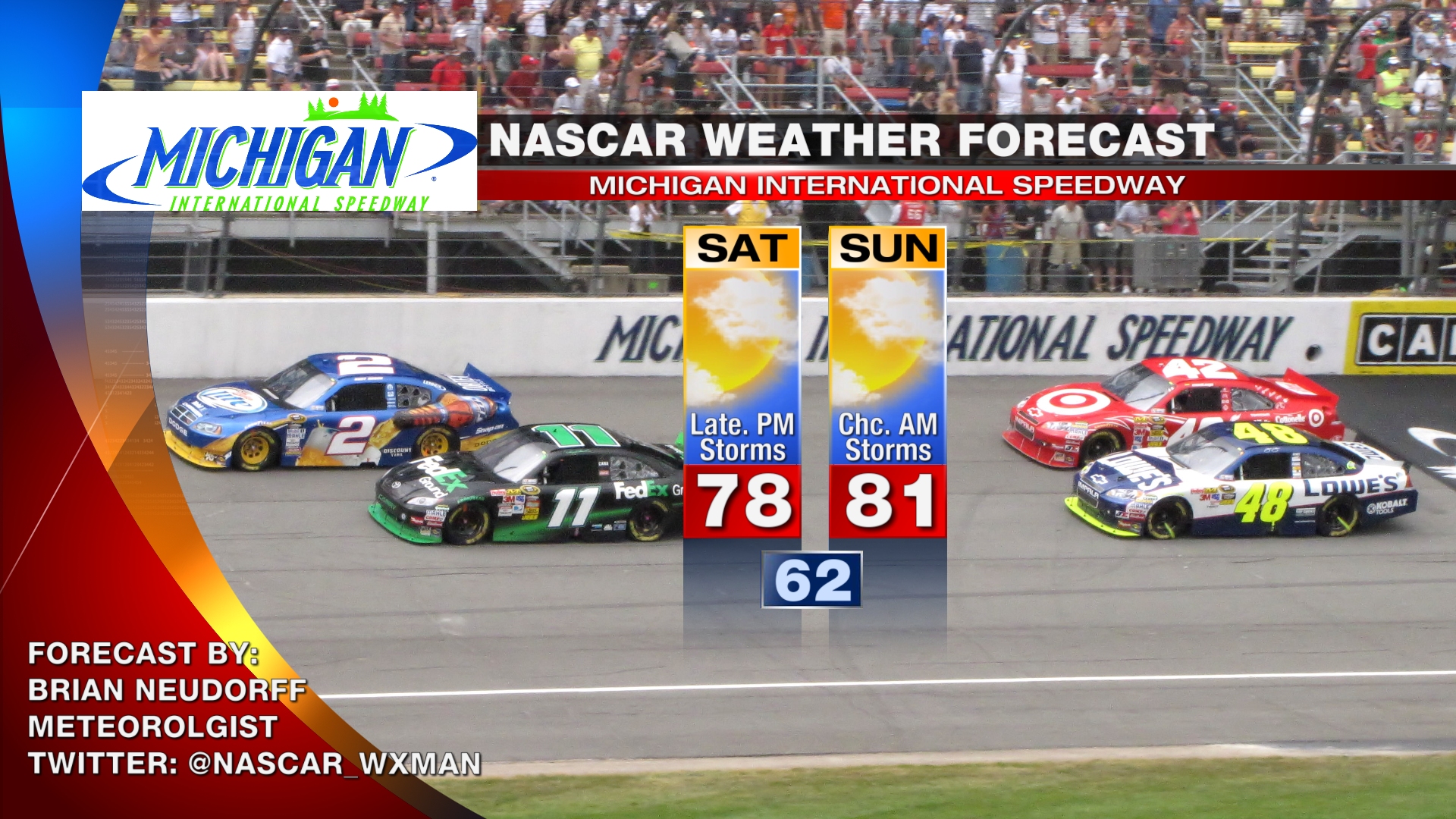 The main weather concern this weekend at Michigan International Speedway is the arrival of showers and possible thunderstorms later this afternoon and timing their exit Sunday morning.
Most of the today will be dry but showers and storms coming out of the Plains and northern Great Lakes could arrive across southern Michigan anytime after 2 p.m. EDT. At this time I don't expect rain to arrive until after the NASCAR Nationwide race this afternoon.
The above image is a Hi-Resolution forecast model from this morning into Sunday afternoon. It shows rain arriving around Michigan International Speedway between 4 and 6 p.m. EDT and then exiting late morning on Sunday. I am about 80% confident that we see rain free racing for both the Nationwide race today and the Sprint Cup race on Sunday. The 20% of doubt is for the rain threat later this afternoon.
The only problem for Sunday is when does the rain finally end and will it end in time to dry the track so that the Sprint Cup race can start on time. The good news is once the rain ends Sunday morning, it will dry out and become partly to mostly sunny.
Please follow me on Twitter @NASCAR_WXMAN and like me on Facebook for the latest weather updates through the weekend.
Conditions in Brooklyn, MI: Click here for Current Weather Conditions – Look at Doppler Radar | Mobile Friendly Site | Mobile Radar
SATURDAY:
9:30 a.m. EDT
Sprint Cup Series practice – Partly sunny skies – temp: 62
10:35 a.m. EDT
Nationwide Series qualifying – Partly sunny skies – temp: 67
12:30 p.m. EDT
Sprint Cup Series Final practice – Partly sunny skies – temp: 71
2:15 p.m. EDT
Nationwide Series Race – Mostly cloudy, chance of scattered shower or storm – temp: 76
SUNDAY:
12 p.m. EDT
Sprint Cup Series Pre-race – Mostly cloudy, chance of shower or storm – temp: 75
1 p.m. EDT
Sprint Cup Series Race – Variably cloudy – temp: 76
2 p.m. EDT
Sprint Cup Series Race – Partly sunny – temp: 77
3 p.m. EDT
Sprint Cup Series Race – Partly sunny – temp: 78
4 p.m. EDT
Sprint Cup Series Race – Partly sunny – temp: 80