Nationwide Series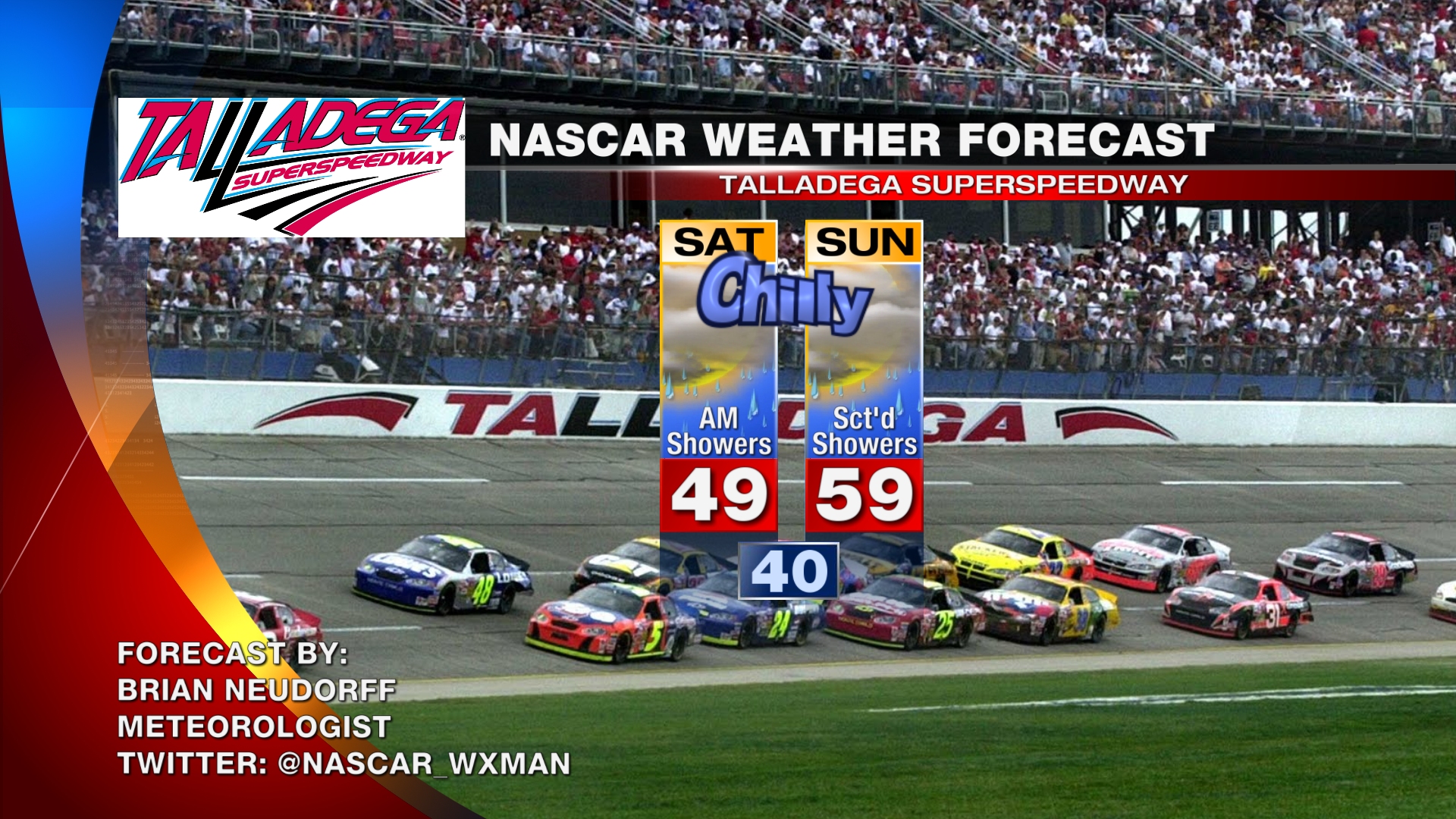 Cold front associated with an upper level cold core low will slowly work across the state of Alabama today. This will keep Talladega Superspeedway wet for most of the day. Rain will slowly end from the west to east as we head into the early afternoon. Temperatures will also be extremely cold for May. Temperatures across Alabama today will remain in the 40s.
SATURDAY'S NATIONWIDE RACE: The above image is from the high resolution NAM weather model for 3pm EDT over eastern Alabama. This is what has me concerned for the Nationwide race scheduled at 3 p.m. EDT. It will all come down to when the rain finally clears out later this afternoon. If it clear out between 1 and 4 p.m. then we could have a delayed race. Unfortunately some forecast models keep the rain around eastern Alabama through the late afternoon and into the evening hours. Because the Nationwide race comes down to the timing of the rains exit it could be delayed or it could be postponed. I can't call it a washout because we do expect clearing to take place later in the day. This is a toss up.
SUNDAY'S SPRINT CUP RACE: This forecast is more complicated. Today we are tracking a band of showers across the state and there is a beginning and an end. For Sunday, the center of this upper level storm system is right over Alabama. This will cause a very unstable atmosphere. An unstable atmosphere will lead to the development of scattered showers.
Imagine dumping a bag of marbles on to the floor but before you do, predict where each marble will go and eventually stop. That is the challenge meteorologist have in predicting scattered showers. We know that showers will form as the day goes on but we don't know necessarily when and where they will form and move after they form.
Here is the high resolution NAM for 2 p.m. on Sunday, one hour after the scheduled start of the race. The center of the storm system will be right over central Alabama and areas of scattered showers will form close to the center. This model has rain right over Talladega Superspeedway at this time. It doesn't necessarily mean that exact scenario is going to happen. What it does mean is we could see weather delays through out the afternoon. It all depends on where the rain forms and where it goes.
The probability of seeing an official race is around 45 to 55 percent. It's not high but I think it is possible. I have seen far worse rain forecast than this produce at least an official race. (ending the race anytime after halfway). I would say the odds of a complete race is around 40 percent at this given time. Maybe it's the fan in me, but I am holding out hope that we can at least get this race in on Sunday.
Temperatures will remain chilly for Sunday. Afternoon temperatures will be in the mid to upper 50s. Because the air over Alabama will be colder than average, it is possible that some of the showers and even storms that form Sunday could contain small hail.
This will be an ever changing weather forecast so follow me on Twitter @NASCAR_WXMAN and like me on Facebook for the latest weather updates.
Conditions in Talladega, AL: Click here for Current Weather Conditions – Look at Doppler Radar | Mobile Friendly Site | Mobile Radar
SATURDAY:
12:10 p.m. EDT
Sprint Cup qualifying – Chilly, rain showers – temp: 46
3:00 p.m. EDT
Nationwide race – Chilly, cloudy, rain showers, ending in the afternoon – temp: 60

SUNDAY:
11:00 a.m. EDT
Sprint Cup pre-race – Cloudy, mostly cloudy, scattered rain showers – temp: 55
12:00 p.m. EDT
Sprint Cup pre-race – Cloudy, mostly cloudy, scattered rain showers – temp: 57
1:00 p.m. EDT
Sprint Cup race – Cloudy, mostly cloudy, scattered rain showers – temp: 58
2:00 p.m. EDT
Sprint Cup race – Cloudy, mostly cloudy, scattered rain showers – temp: 58
3:00 p.m. EDT
Sprint Cup race – Cloudy, mostly cloudy, scattered rain showers – temp: 57
4:00 p.m. EDT
Sprint Cup race – Cloudy, mostly cloudy, scattered rain showers – temp: 57
5:00 p.m. EDT
Sprint Cup race – Cloudy, mostly cloudy, scattered rain showers – temp: 57