NASCAR Weather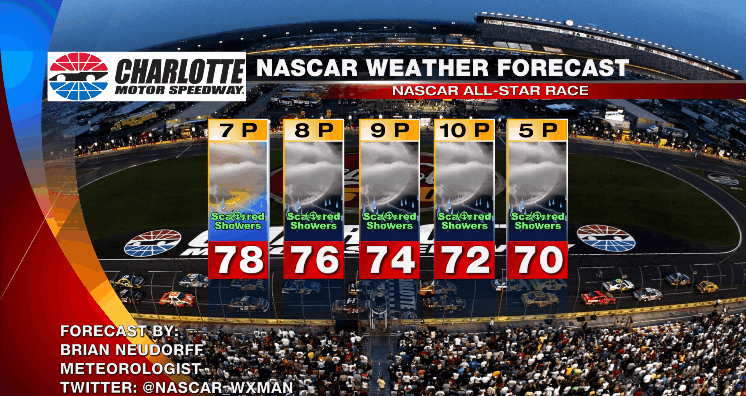 Conditions in Charlotte, NC:
Click here for Current Weather Conditions – Look at Doppler Radar | Mobile Friendly Site | Mobile Radar
A disturbance moving into North Carolina today will spread showers and thunderstorms across the state this morning and into the afternoon. Showers and storms expected to become more broken and scattered by the late afternoon and evening. This will need to be watched because this could cause potential weather delays for the NASCAR Sprint Cup All-Star race.
It appears much of the showers and storms will occur through the late morning into the early afternoon then becoming more broken and scattered during the evening. This still means showers and storms are a threat near the beginning of the All-Star race. With it being at night this causes issues with track drying since we won't have the assistance of the sun to dry the track.
DO WE RACE TONIGHT?
I'd give the odds of getting a race in tonight around 50 to 60% but it could come with possible rain delays, especially towards the beginning. These kind of forecast are just tough because you can't necessarily lock down timing or location of some of these showers and storms. This is what is challenging about these forecasts and knowing for certain if a race will happen or for how long. Will monitor it today and later tonight.
Because of the uncertainty follow me on Twitter @NASCAR_WXMAN and like me on Facebook for the latest weather updates throughout the weekend.