Camping World Truck Series

2

FORECAST UPDATE THURSDAY 2 p.m. EDT (5/31/2012):
The main concern with this weekend's forecast at Dover International Speedway is the possibility of storms on Friday, lingering into Saturday morning. With another possible threat of showers late on Sunday.
That sounds like a big mess with rain but based on timing the only day of real concern is Friday. Cold front will move through the Eastcoast on Friday afternoon and evening. Storms some strong to potentially severe are possible as this system moves through. This could be a problem for the final Sprint Cup practice and Camping World truck race.
Timing will be key on exiting system Saturday morning. A few showers and storms could linger but right now I expect it to be mostly dry, cooler with sunshine on Saturday. Highs will be in the mid to low 70s.
For Sunday, it looks mostly dry but some of the computer models want to swing a disturbance through late Sunday afternoon. If the timing of this changes for earlier then a few isolated or scattered showers would be possible. At this point I am not worried about rain on Sunday, just letting everyone know what I see.
Complete NASCAR weather forecasts and schedule over at SB Nation.com.
Conditions in Dover, DE:
Click here for Current Weather Conditions | Look at Doppler Radar | Mobile Friendly Site | Mobile Radar
Complete Broadcast Schedule From NASCAR.com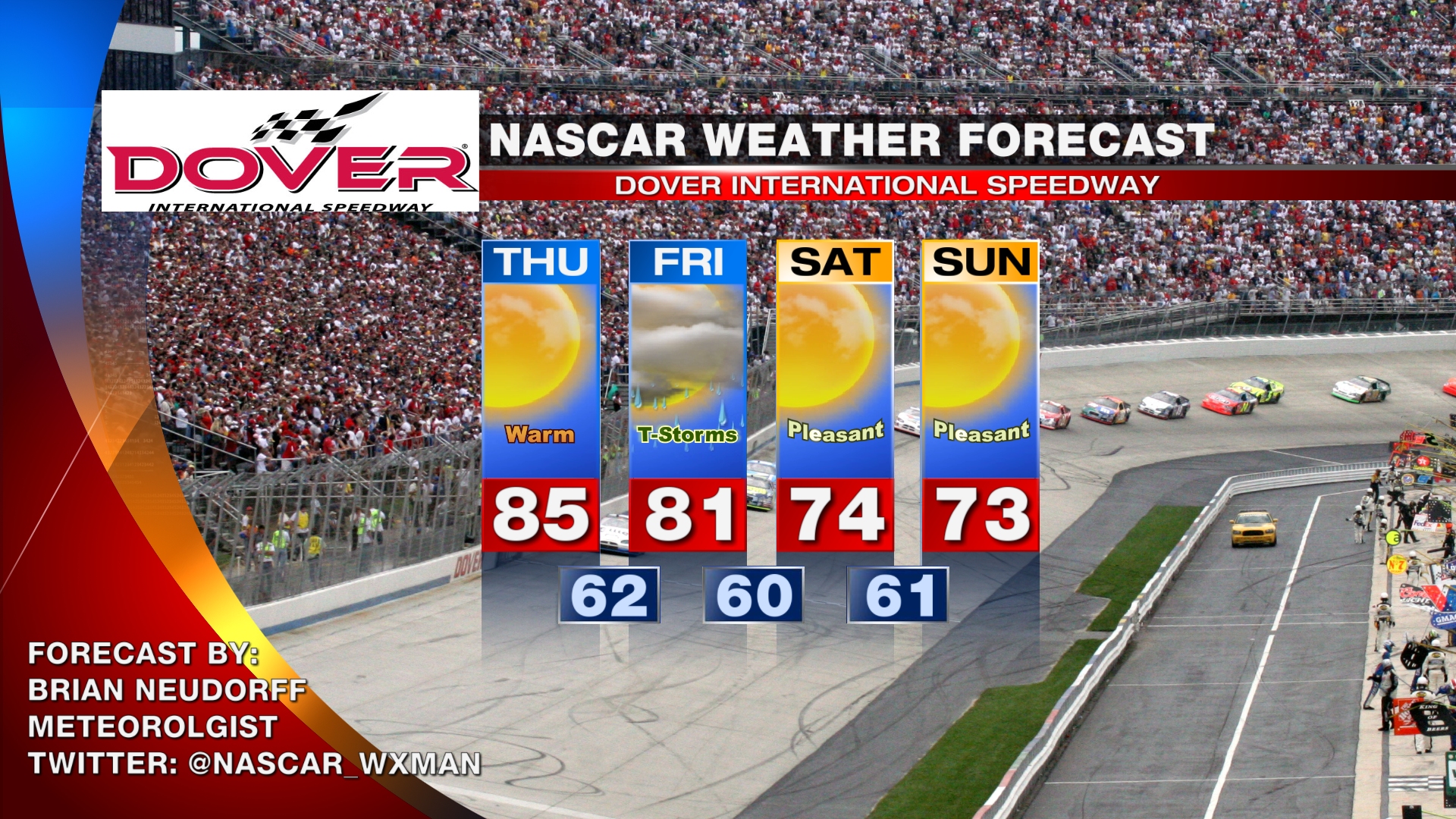 Special offer for NASCAR WXMAN readers:
Purchase MyWARN by May 31st for a one time cost of $9.99. Purchases of MyWARN on or after June 1 will fall under an $11.99 annual subscription fee pricing structure.
When you initialize the app on your phone, be sure to enter the promotional code NASCARWX to be entered in a drawing for a $10 iTunes gift card. Ten lucky winners will be drawn from the NASCAR WXMAN purchasers on June 1, 2012. Don't forget to enter your email as well. MyWARN will never email you without your permission (unless you win!) nor divulge your email addresses to any other agencies.
Click the App Store logo below or to the right to view the app in the App Store.