Camping World Truck Series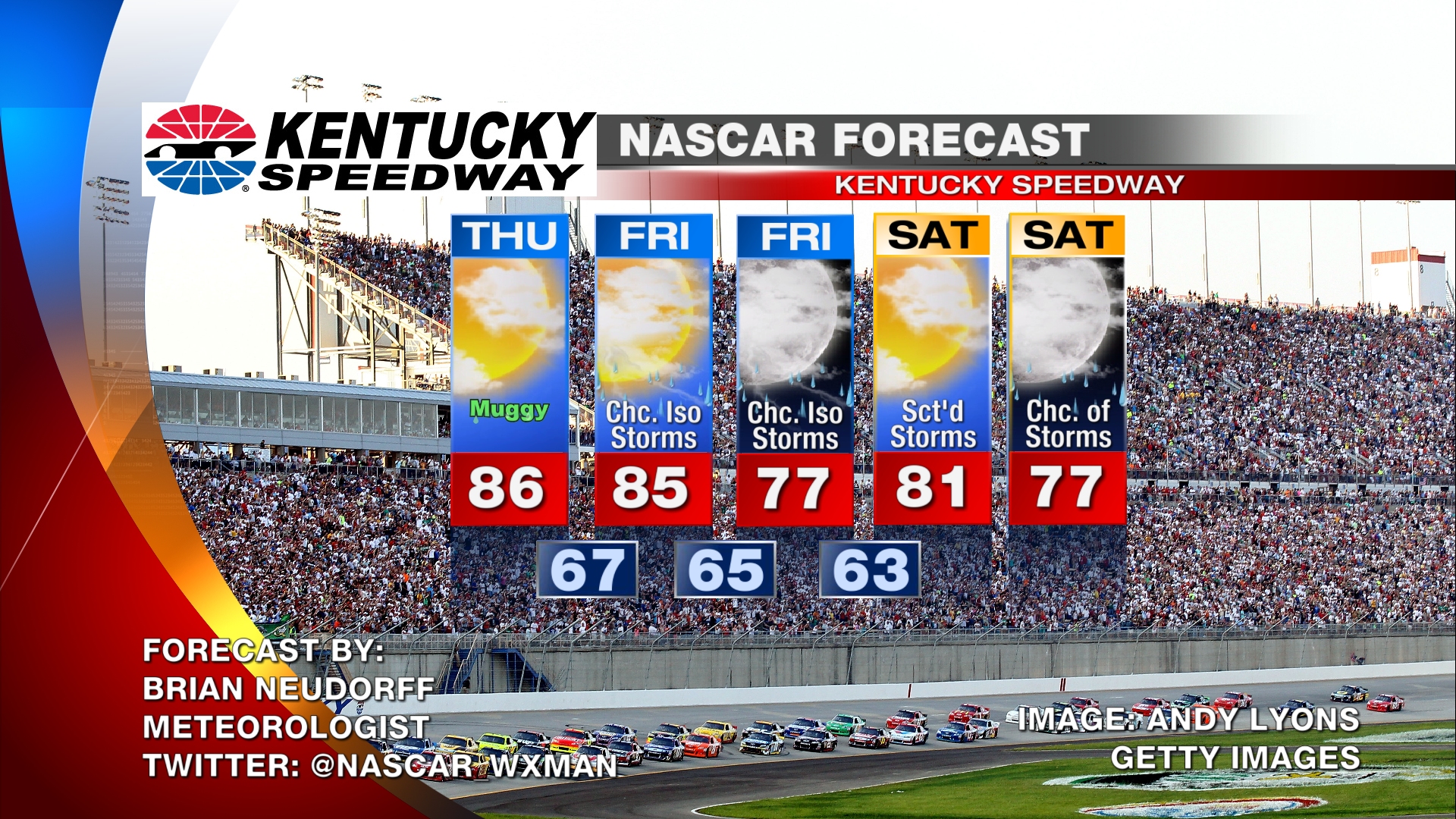 Unsettled weather is likely across the Blue Grass state for the NASCAR weekend at Kentucky Speedway. Moisture along with passing disturbances will provide a lot of uncertainty with this weekends forecast.
While there are chances of showers and storms for today and Friday for the Nationwide and Camping World Truck series races, the best chance for rain (as of now) is Saturday night's Sprint Cup race.
I think there will be plenty of dry time for today and Friday, with just the chance of an isolated shower or storm at times. Highs in the afternoon will be in the mid 80s with race temperatures in the upper to mid 70s.
Saturday a disturbance drops in from the north, this looks like it could bring showers and storms across the Ohio Valley and could cause problems for Saturday night. It is going to come down to timing and I wouldn't call Saturday a wash just yet but I am nervous about it. I will have to wait and see how the forecast plays out today and into Friday.
Please follow me on Twitter @NASCAR_WXMAN and like me on Facebook for the latest weather updates through the weekend.
Conditions in Sparta, KY:Click here for Current Weather Conditions – Look at Doppler Radar | Mobile Friendly Site |Mobile Radar
THURSDAY:
10:30 a.m EDT
Truck Series practice – Sun and clouds, chc. of isolated shower/storm – temp: 78
12:00 p.m EDT
Truck Series Final practice – Sun and clouds, chc. of shower/storm – temp: 83
5:05 p.m EDT
Truck Series Qualifying – Sun and clouds, chc. of shower/storm – temp: 86
6:30 p.m EDT
Nationwide Series Practice – Sun and clouds, chc. of isolated shower/storm – temp: 85
8:00 p.m EDT
Truck Series Race – Partly cloudy, chc. of isolated shower/storm – temp: 82

FRIDAY:
9:00 a.m EDT
Nationwide Series Final Practice – Partly sunny, chance of a T'storm – temp: 75
11:30 a.m EDT
Sprint Cup Series Practice – Partly sunny, chance of a T'storm – temp: 80
1:30 p.m EDT
Sprint Cup Series Final Practice – Partly sunny, chance of a T'storm – temp: 84
3:35 p.m EDT
Nationwide Series Qualifying – Partly sunny, chance of a T'storm – temp: 85
5:10 p.m EDT
Sprint Cup Series Qualifying – Partly sunny, chance of a T'storm – temp: 85
7:30 p.m EDT
Nationwide Race – Partly cloudy, chance of a T'storm – temp: 82
SATURDAY:
6:30 p.m. EDT
Sprint Cup Series Pre-race – Chance of showers and storms– temp: 78
7:30 p.m. EDT
Sprint Cup Series Race – Chance of showers and storms – temp: 78
8:30 p.m. EDT
Sprint Cup Series Race – Chance of showers and storms – temp: 75
9:30 p.m. EDT
Sprint Cup Series Race – Chance of showers and storms – temp: 73
10:30 p.m. EDT
Sprint Cup Series Race – Chance of showers and storms – temp: 70
11:30 p.m. EDT
Sprint Cup Series Race – Chance of showers and storms – temp: 69