2015 NASCAR Season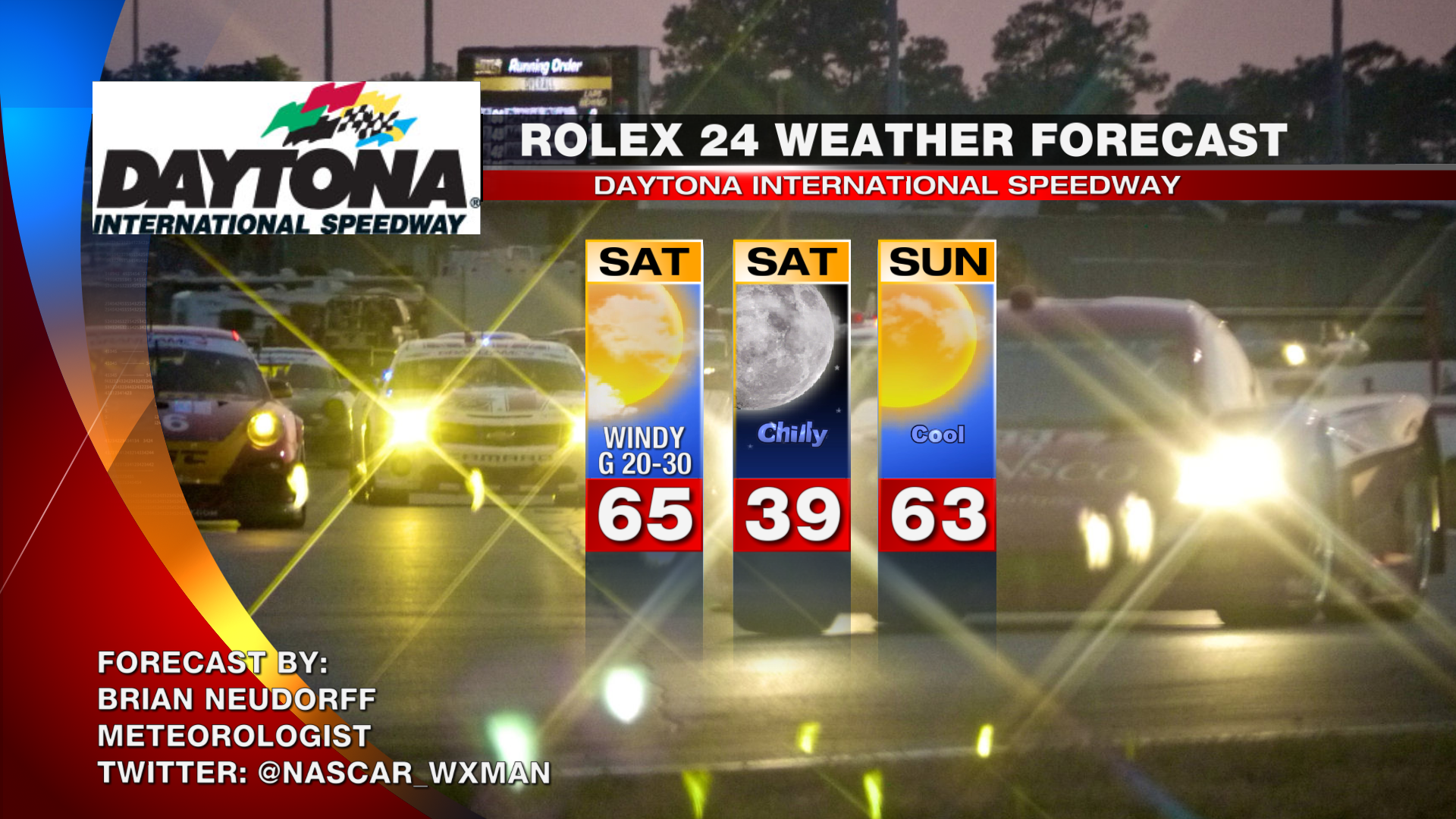 Cold front worked in across Florida Friday night into early Saturday morning. It brought rain and in it's wake will be cooler temperatures and strong gust winds. The winds will be in place this afternoon into Saturday evening.
***WIND ADVISORY IS IN EFFECT UNTIL 6 PM E.T. SATURDAY EVENING FOR DAYTONA INTERNATIONAL SPEEDWAY***
* WINDS…WEST TO NORTHWEST WINDS WILL INCREASE 20 TO 25 MPH WITH GUSTS TO 35 MPH BEHIND A COLD FRONT THIS MORNING AND CONTINUE INTO THIS AFTERNOON.
* IMPACTS…STRONG WINDS CAN BLOW AROUND LOOSE OUTDOOR OBJECTS SUCH AS TRASH CANS AND LAWN FURNITURE. THESE GUSTY WINDS WILL PRODUCE VERY HAZARDOUS CONDITIONS FOR NAVIGATION ON LAKES AND INLAND WATERWAYS THROUGH THIS AFTERNOON.
DETAILED FORECAST:

TONIGHT: Skies will be mostly clear to clear with gusty winds in the evening. Winds will diminish to 5 to 10 mph out of the west-northwest. It will also turn cold for Florida standards as temperatures fall to near 39 degrees by daybreak.
SUNDAY: Mostly sunny skies and cool. Morning temperatures will be chilly in the 40s warming to upper 50s by midday and the low 60s into the afternoon.
Please follow me on Twitter @NASCAR_WXMAN and like me on Facebook for the latest weather updates through the week.
Conditions in Daytona Beach, FL: Click here for Current Weather Conditions – Look at Doppler Radar | Mobile Friendly Site | Mobile Radar