Atlanta Motor Speedway Weather Forecast: Rain Threat Increases Sunday with Soon to be Lee

Click here for the Latest Forecast
Conditions in Atlanta, GA:
Click here for Current Weather Conditions – Look at Doppler Radar | Mobile Friendly Site | Mobile Radar
Complete Broadcast Schedule From NASCAR.com
Atlanta, GA
FRI Sept 3
SAT Sept 4
SUN Sept 5
SUN Sept 5

Sunny Skies
Sunny skies
Variably cloudy, chance of storms.
Mostly cloudy, chance of storms.
High: 93
Low: 62
High: 90
Low: 64
High: 87
Low: 65
Race Temp: 88

FORECAST DISCUSSION THURSDAY 12:00 PM EDT:
What looked like a dry forecast for Sunday at Atlanta Motor Speedway has quickly changed thanks to the development of proto-Lee forming in the Gulf of Mexico. Thunderstorm activity Thursday afternoon continues to look impressive and pressure around this system continues to drop. Possible that if the develop for this continue we could have a tropical depression or tropical storm Lee could form in 24 to 36 hours.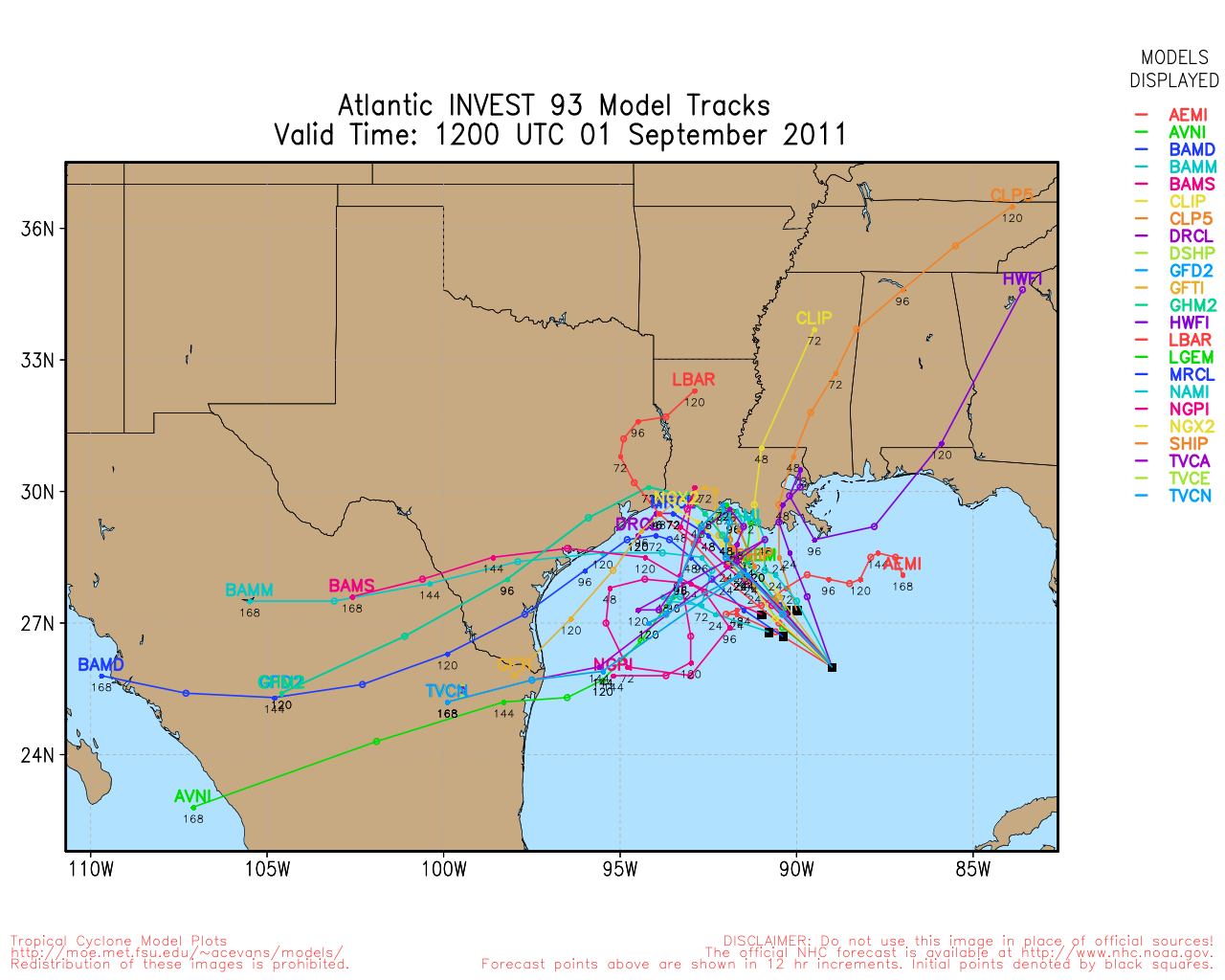 The various computer we use to forecast these system has no idea what to do with this system. The National Hurricane Center is expected to send a recon plane into the system later this afternoon. Once that data is collected and put into the models then we should have a better idea of where and what this storm is doing later tonight. It appears some of the main models we use in weather forecasting are starting to settling on an early idea of this storm making landfall somewhere in either southwest Louisiana or southeast Texas Sunday or Monday…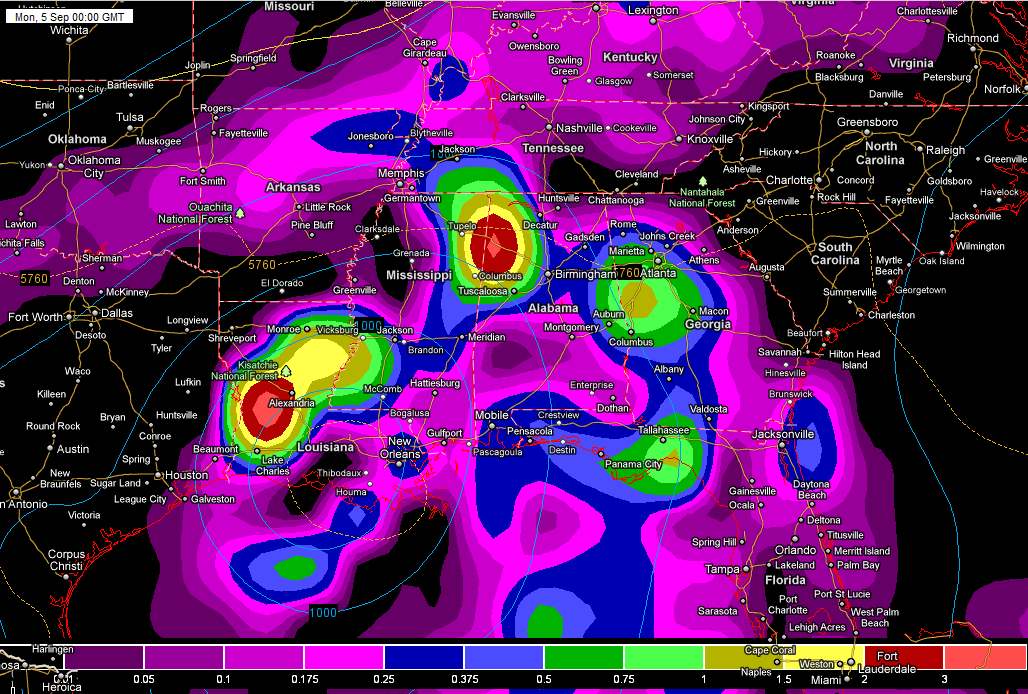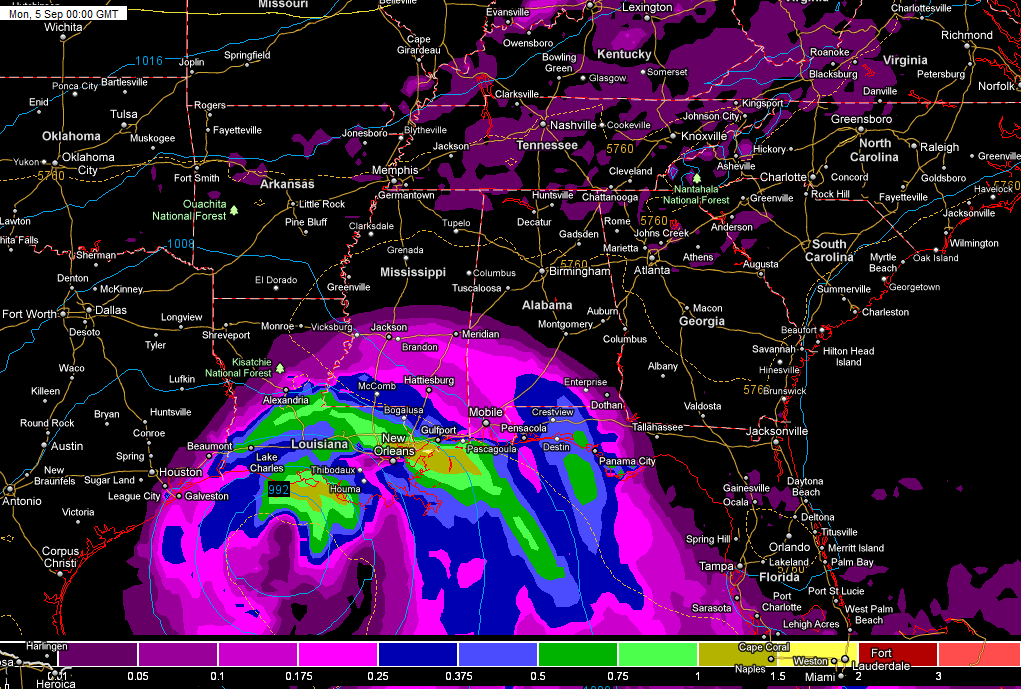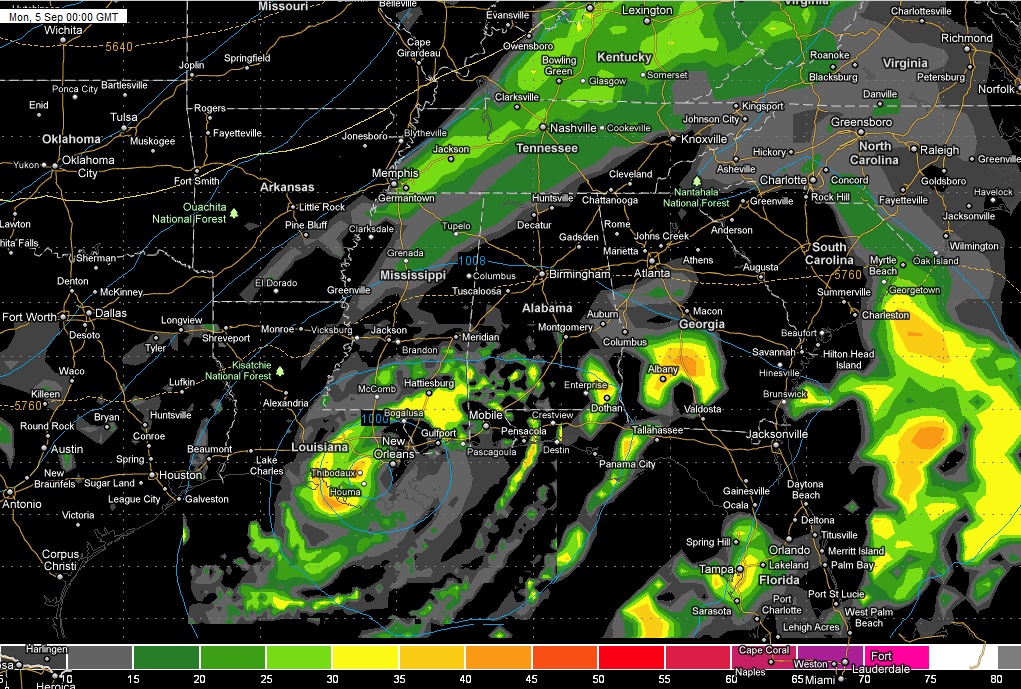 How does this impact the race in Atlanta this weekend? Tough call at this point, there are too items we are watching. One being proto-Lee in the Gulf the second is a cold front dropping out of Tennessee interacting with the moisture coming out of the Gulf. At this point I can't tell you with any grain of certainty that it will be dry or it will be wet but now I am airing on the side of caution. Too many players on the field to ignore rain and storms Sunday into Sunday night. A lot will reveal itself as proto-Lee becomes better organized. Also Monday does not look any better it actually looks wetter than Sunday, but I want to caution everyone that this may become a day by day kind of forecast with frequent changes. Stay tuned.
FRIDAY:
10:30 a.m EDT
Truck Practice – Mostly sunny – temp: 79
12 p.m EDT
Truck Final Practice – Mostly sunny – temp: 84
5 p.m EDT
Truck Qualifying – Mostly sunny – temp: 91
6 p.m EDT
Sprint Cup Practice – Mostly sunny – temp: 90
8 p.m EDT
Truck Race – Mostly clear – temp: 85

SATURDAY:
8:30 a.m EDT
Nationwide Practice – Mostly sunny – temp: 70
9:45 a.m EDT
Nationwide Final Practice – Mostly sunny – temp: 77
1:30 p.m EDT
Sprint Cup Final Practice – Mostly sunny – temp: 87
3:30 p.m EDT
Nationwide Qualifying – Mostly sunny – temp: 91
5:00 p.m EDT
Sprint Cup Qualifying – Mostly sunny – temp: 90
7:30 p.m EDT
Nationwide Race – Patchy clouds – temp: 85
SUNDAY:
7:30 p.m EDT
Sprint Cup Race – Mostly cloudy, chance of a shower or storm – temp: 83
Please follow me on Twitter @NASCAR_WXMAN for the latest Weather updates during the race.
This entry was posted by Brian Neudorff on September 1, 2011 at 12:17 PM, and is filed under 2011 NASCAR Season, AdvoCare 500, Atlanta 200, Atlanta Motor Speedway, Camping World Truck Series, Great Clips 300, NASCAR Weather, Nationwide Series, Race Forecast, Race Tracks, Race Weather, Race Weekend, Races, Sprint Cup Series. Follow any responses to this post through RSS 2.0.You can leave a response or trackback from your own site.