Atlanta Motor Speedway Race Day Weather Forecast: Ollie Williams, "It Gon Rain"

Click here for the Latest Forecast
Conditions in Atlanta, GA:
Click here for Current Weather Conditions – Look at Doppler Radar | Mobile Friendly Site | Mobile Radar
Complete Broadcast Schedule From NASCAR.com
Atlanta, GA
SUN Sept 5
SUN Sept 5
MON Sept 6
TUE Sept 7
WED Sept 8

Mostly cloudy, chance of showers/storms afternoon.
Showers & storms more likely mid evening & late night
Rain, heavy at times, isolated storms
Windy with rain, isolated storms
Becoming partly sunny drying out.
High: 80

Race Temp: 76

High: 80
Low: 70

High: 78
Low: 71
High: 77
Low: 61

FORECAST DISCUSSION SUNDAY 4AM EDT:
There has been little change in the overall forecast for Sunday night at Atlanta Motor Speedway. The two players that will impact the weather are tropical storm Lee (at least the moisture associated with it) and an approaching cold front from the north. A band of rain will break off off Lee during the day Sunday we could see some showers Sunday morning with more rain arriving Sunday afternoon and evening. The images below are model print outs for 8 p.m. EDT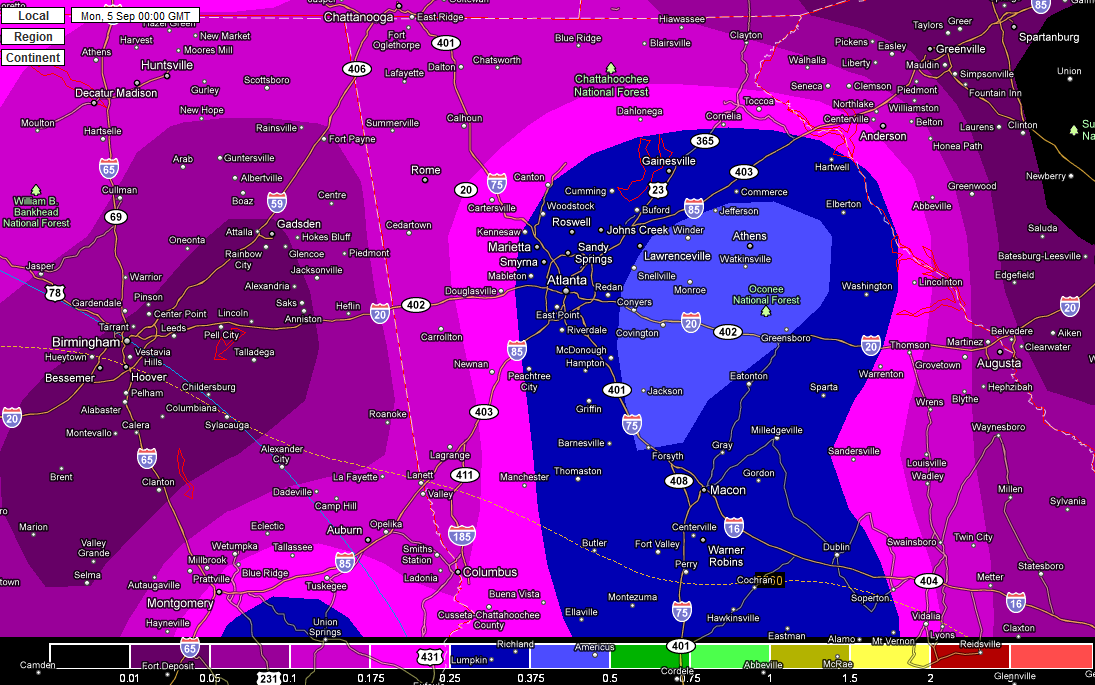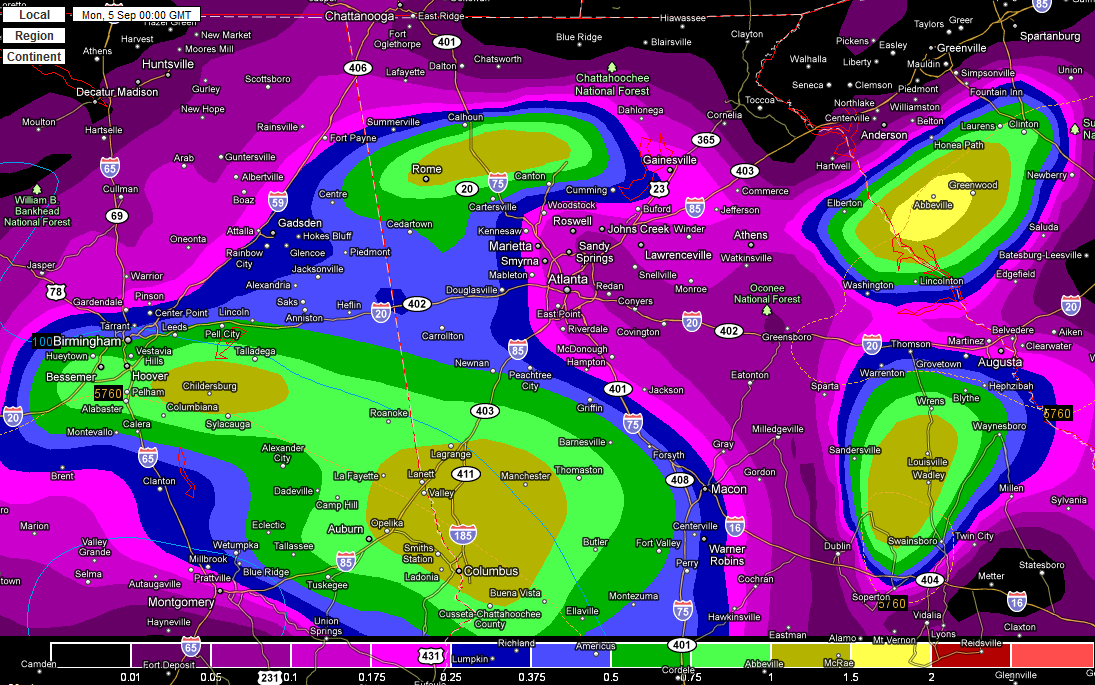 I tweeted Saturday night that optimistically I think we have a 25% chance of getting this race in Sunday night. It isn't out of the question that there could be breaks in the rain and possible windows. We really won't know the exact scenario until there is actual rain on the radar moving towards north central Georgia.
If we don't get this race in Sunday night we may be looking at the possibility of a Wednesday race because tropical storm Lee (or what's left of the storm) is expected to move through Mississippi, Alabama and Tennessee Monday and Tuesday bringing heavy rains (3 to 5 inches) and some winds to the Atlanta metro the next two days. If we race Wednesday then no one is going to the White House.
SUNDAY:
Mostly cloudy with scattered showers and isolated storms into the afternoon. Not as hot as highs are near 80. Showers become more likely into the evening and after 8pm
SUNDAY RACE FORECAST:
7:30 p.m EDT
Sprint Cup Race – Showers and storms becoming likely through the evening– temp: 76
Please follow me on Twitter @NASCAR_WXMAN for the latest Weather updates during the race.
This entry was posted by Brian Neudorff on September 4, 2011 at 2:00 AM, and is filed under 2011 NASCAR Season, AdvoCare 500, Atlanta Motor Speedway, NASCAR Weather, Race Forecast, Race Tracks, Race Weather, Race Weekend, Races, Sprint Cup Series. Follow any responses to this post through RSS 2.0.You can leave a response or trackback from your own site.