2012 Texas Motor Speedway Weather Forecast: Storm Threat Is Low Saturday Night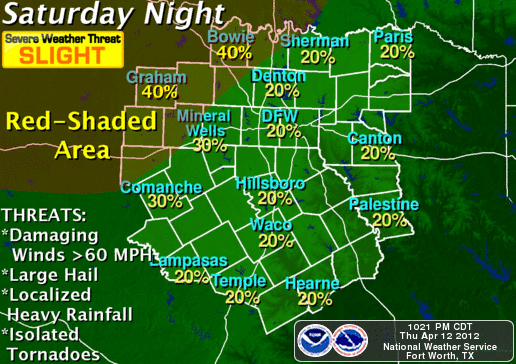 FORECAST UPDATE FRIDAY 3 AM EDT (4/13/2012):
The above image is from the National Weather Service Office in Dallas/Fort Worth. Their thinking has been inline with what I've been saying and thinking for Saturday night's Sprint Cup race at Texas Motor Speedway:
A vigorous upper level system will continue to trudge across the Rockies through the end of the week…before slowly exiting over the Central and Southern Plains over the weekend. A moderate risk of severe storms will occur across central Oklahoma into southeast Kansas by Saturday evening. The tail-end of the forcing will work along an approaching dryline near northwestern North Texas to provide the best lift for scattered severe storms containing large hail, damaging winds, isolated tornadoes, and frequent lightning late evening and overnight Saturday. How much the cap weakens and lifts and how far east will play a role on timing and placement of where storms sustain. Activity will become more in the form of a squall line toward Sunday morning as a low level jet feeds into the system overnight with heavy rainfall to between in excess of 2 to 3 inches in spots becoming a threat on Sunday, along with a continued severe weather threat depending if the system slows down or not.
Like the NWS I think the worst of the weather takes place to the north and northwest of Dallas-Fort Worth Saturday night leaving just a chance of isolated showers and storms. Because of the proximity to the higher risk of severe weather some of the stray storms that form could be strong to potentiall severe Saturday night but currently the odds are in NASCAR's favor to get Saturday night's race completed.
For Friday night's Nationwide race, it will be breezy, variably cloudy and temperatures in the mid 70s.
Look for more of my NASCAR weather forecasts over at SBNation.com.
Conditions in Fort Worth, TX:
Click here for Current Weather Conditions – Look at Doppler Radar | Mobile Friendly Site | Mobile Radar
Complete Broadcast Schedule From NASCAR.com
Fort Worth, TX
FRI
APR 13
SAT
APR 14
SAT NIGHT
APR 14
Mix of sunshine and clouds, windy.
Clouds and sunshine, slight chance of isoalted t'storms.
Slight chance of an isolated thunderstorm, dry time as well.
WIND: South 10-20 G 30 mph
WIND: South 15-25 G 30 mph
WIND: SW 10-20 mph
High: 80
High: 82
Low: 67
Temp: 77
Special offer for NASCAR WXMAN readers:
Purchase MyWARN by May 31st for a one time cost of $9.99. Purchases of MyWARN on or after June 1 will fall under an $11.99 annual subscription fee pricing structure.
When you initialize the app on your phone, be sure to enter the promotional code NASCARWX to be entered in a drawing for a $10 iTunes gift card. Ten lucky winners will be drawn from the NASCAR WXMAN purchasers on June 1, 2012. Don't forget to enter your email as well. MyWARN will never email you without your permission (unless you win!) nor divulge your email addresses to any other agencies.
Click the App Store logo below or to the right to view the app in the App Store.
This entry was posted by Brian Neudorff on April 13, 2012 at 1:07 AM, and is filed under 2012 NASCAR Season, NASCAR Weather, Nationwide Series, O'Reilly Auto Parts 300, Race Forecast, Race Tracks, Race Weather, Race Weekend, Races, Samsung Mobile 500, Sprint Cup Series, Texas Motor Speedway. Follow any responses to this post through RSS 2.0.You can leave a response or trackback from your own site.