2012 Texas Motor Speedway Saturday Night Race Day Weather Forecast: Most Storms Stay Away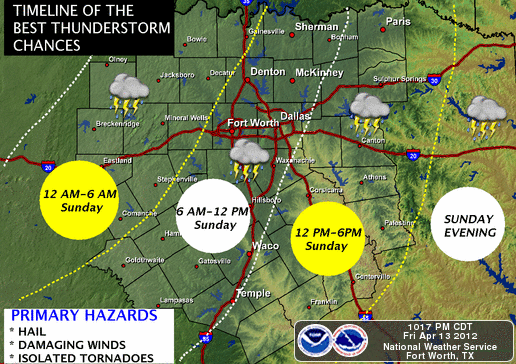 The above image is from the National Weather Service Office in Dallas/Fort Worth:
A powerful upper level storm system will approach the region Saturday and bring a chance of severe thunderstorms during the afternoon and evening….generally from Oklahoma through Nebraska. Thunderstorms will move into North Texas after midnight with storm chances increasing from west to east through the day Sunday. Some storms may be severe with large hail…damaging winds and isolated tornadoes.
FORECAST UPDATE SATURDAY 3 AM EDT (4/14/2012):


The forecast remains on track for Saturday night's NASCAR Sprint Cup Samsung Mobile 500 at Texas Motor Speedway. The main severe weather threat on Saturday will be to the northwest of Dallas-Fort Worth through Oklahoma, Kansas and Nebraska Saturday afternoon and evening. You can read more on this life threatening threat in Oklahoma, Kansas and Nebraska and how to prepare in my previous post.
Wind advisory is in effect for north Texas including the Dallas-Fort Worth Metroplex from 9am CDT until 7pm CDT Saturday. Winds out of the south will be sustained 20 to 30 mph gusting to near 40 at times during the late morning, afternoon and evening. Most of the day will be dry with a mixture of sunshine and clouds and high temperatures in the low 80s.
As we head into the late afternoon and evening there is just a very small chance of an isolated thunderstorm but it appears that most of the time if not all of the evening should remain dry and storm free. If a lone storm were to form, it would need to be watched because it could have the potential to be strong to severe. This likelihood is very small and I remain confident that we get the NASCAR Sprint Cup Samsung Mobile 500 started and finished Saturday night. Just to be safe I will be tracking all the development on radar through the afternoon and evening and update this site, SBNation.com, Twitter and Facebook as needed.
Conditions in Fort Worth, TX:
Click here for Current Weather Conditions – Look at Doppler Radar | Mobile Friendly Site | Mobile Radar
Complete Broadcast Schedule From NASCAR.com
Fort Worth, TX
APR 13
SAT
APR 14
SAT NIGHT
APR 14
Windy, Clouds & Sunshine
Partly to Mostly Cloudy, Mainly Dry, Sligth Chance of an Isolated Storm
WIND: South 20-30 G 40 mph
WIND: South 10-20 Gust 30 mph
High: 82
Temp: 77-74
Special offer for NASCAR WXMAN readers:
Purchase MyWARN by May 31st for a one time cost of $9.99. Purchases of MyWARN on or after June 1 will fall under an $11.99 annual subscription fee pricing structure.
When you initialize the app on your phone, be sure to enter the promotional code NASCARWX to be entered in a drawing for a $10 iTunes gift card. Ten lucky winners will be drawn from the NASCAR WXMAN purchasers on June 1, 2012. Don't forget to enter your email as well. MyWARN will never email you without your permission (unless you win!) nor divulge your email addresses to any other agencies.
Click the App Store logo below or to the right to view the app in the App Store.
This entry was posted by Brian Neudorff on April 14, 2012 at 12:36 AM, and is filed under 2012 NASCAR Season, NASCAR Weather, Race Forecast, Race Tracks, Race Weather, Race Weekend, Races, Samsung Mobile 500, Severe Weather, Sprint Cup Series, Texas Motor Speedway. Follow any responses to this post through RSS 2.0.You can leave a response or trackback from your own site.