2012 NASCAR At Richmond International Raceway Race Day Weather Forecast: Can We Race Tonight?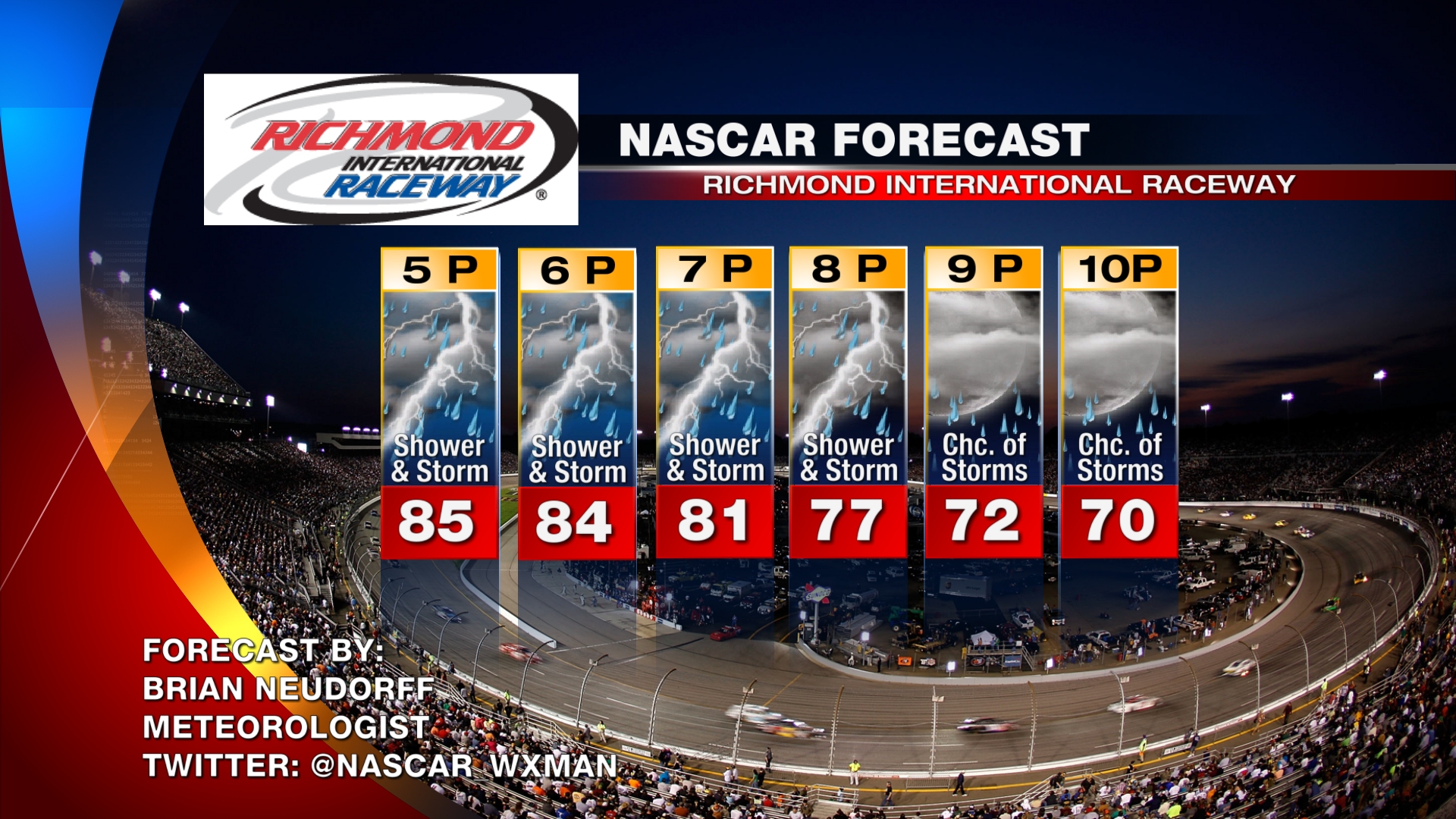 First half of the day will be partly sunny, very warm and humid with afternoon high temperatures expected to reach near 90. A strong cold front will push across Virginia during the day bringing with it showers and storms. It is expected to arrive in Richmond between 4 p.m. and 8 p.m. with a line of strong storms and showers. This is obviously a problem because the NASCAR Sprint Cup race is scheduled for around 7:30 p.m. EDT.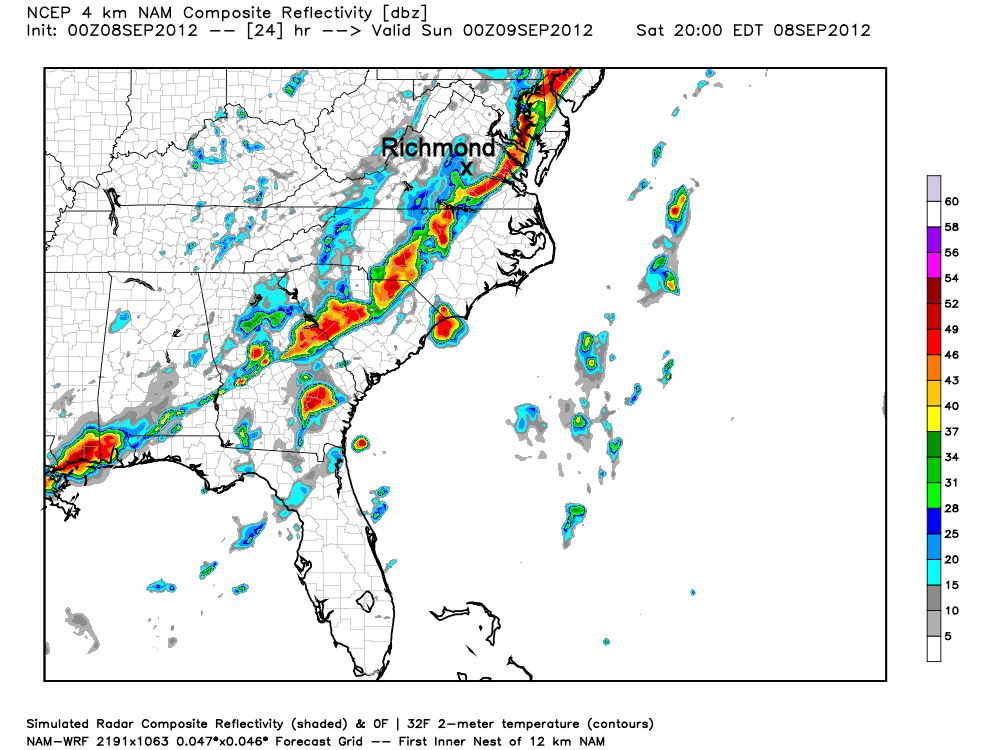 The image above is just one of the computer models I like to look at when putting together a forecast. This is from Friday night for 8 p.m. tonight. I've marked Richmond on the map and as you can see it has the main line of storms to the east of Richmond and the track, but lighter more scattered showers remain behind around the city of Richmond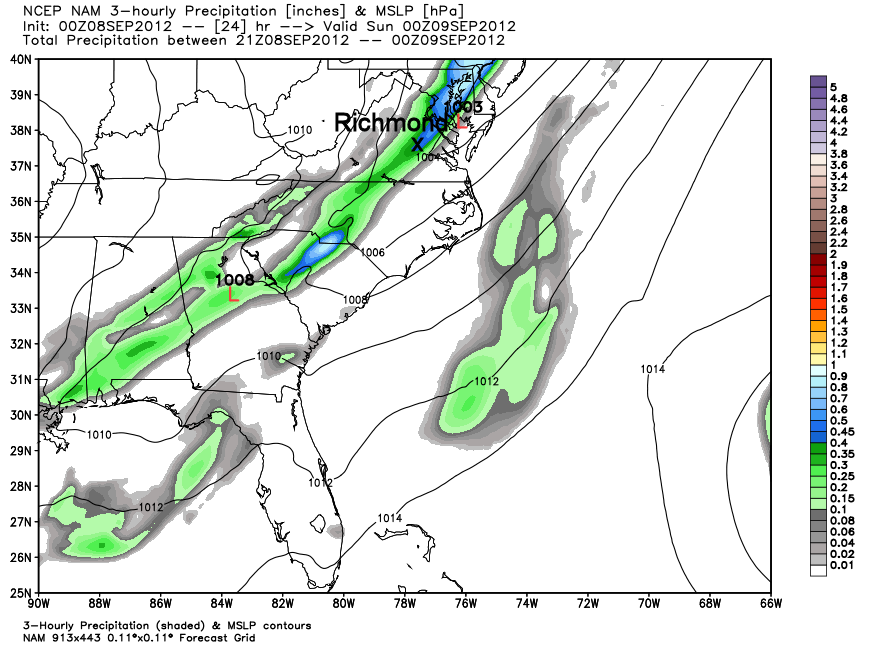 Here is another model for the same time 8 p.m. tonight, both of these models have been consistent keeping rain near or over Richmond around the time the race is scheduled to start.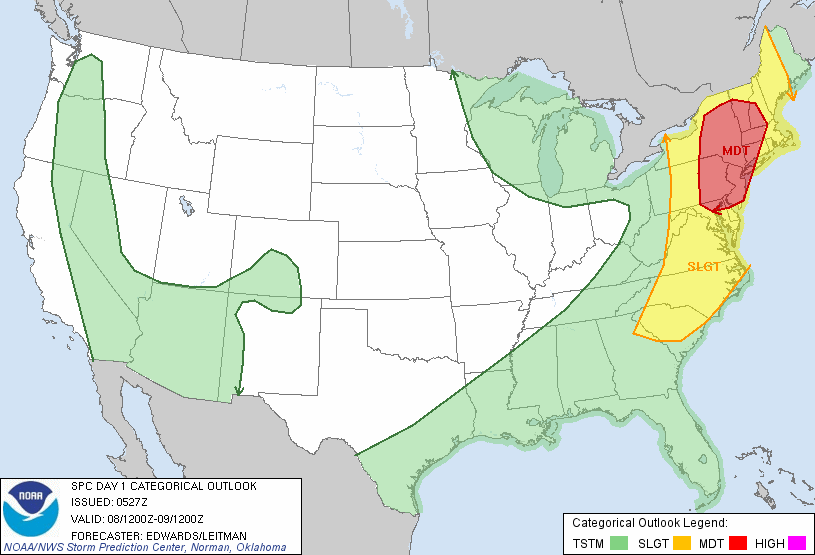 As if the worry of rain delaying or even postponing tonight's NASCAR race wasn't enough, the Storm Prediction Center continue to have Richmond International Speedway in a slight risk for severe weather. The main threat with the line of storms expected later today and tonight is gusty damaging winds. Lightning would also be a big concern with all those fans out camping and tailgating before the start of the race.
Do we race tonight?  My gut is telling me that it will be very difficult to get this race in tonight but it's possible. A lot has to go NASCAR's way in order for us to see racing tonight. The rain and storms have to arrive as early as possible (between 3 p.m. and 6 p.m.) and clear out quickly giving crews plenty of time to dry the track with no more rain to follow.
The other question is if the rain clears out and they get the track dried by 10 p.m. or 11 p.m. would NASCAR still race that late? It's a tough call so please follow me on Twitter @NASCAR_WXMAN and like me on Facebook for the latest weather updates because things could change quickly later today.
If the race is postponed until Sunday, the weather forecast is perfect. Lots of sunshine, cooler temperatures with highs near 80 and less humidity. Although not certain, in the past if a night race was moved to the next day NASCAR typically started it around noon or 1 p.m. EDT.
Conditions in Richmond, VA: Click here for Current Weather Conditions – Look at Doppler Radar | Mobile Friendly Site | Mobile Radar
This entry was posted by Brian Neudorff on September 8, 2012 at 2:07 AM, and is filed under 2012 NASCAR Season, NASCAR Weather, Race Forecast, Race Tracks, Race Weather, Race Weekend, Races, Richmond International Raceway, Sprint Cup Series. Follow any responses to this post through RSS 2.0.You can leave a response or trackback from your own site.