2012 NASCAR At Atlanta Motor Speedway: Race Day Weather Forecast
FORECAST UPDATE SUNDAY 5:00 p.m. EDT (9/2/2012):
Scattered rain showers and a few thunderstorms could make people nervous tonight as the NASCAR Sprint Cup Series races at Atlanta Motor Speedway. I don't expect this to be a washout and like we've seen all weekend with rain in the forecast most of the time has been dry and should remain that way through the race.
The radar all afternoon has been showing scattered to isolated showers and storms through out central and northern Georgia. Most of the activity this afternoon has not been a threat to the track but with all the tropical moisture in place can't leave out the mention of a shower or storm potentially being a problem later this evening.
Do I think it's going to be a wash? No, but a delay is possible and the likelihood of that is around 40%.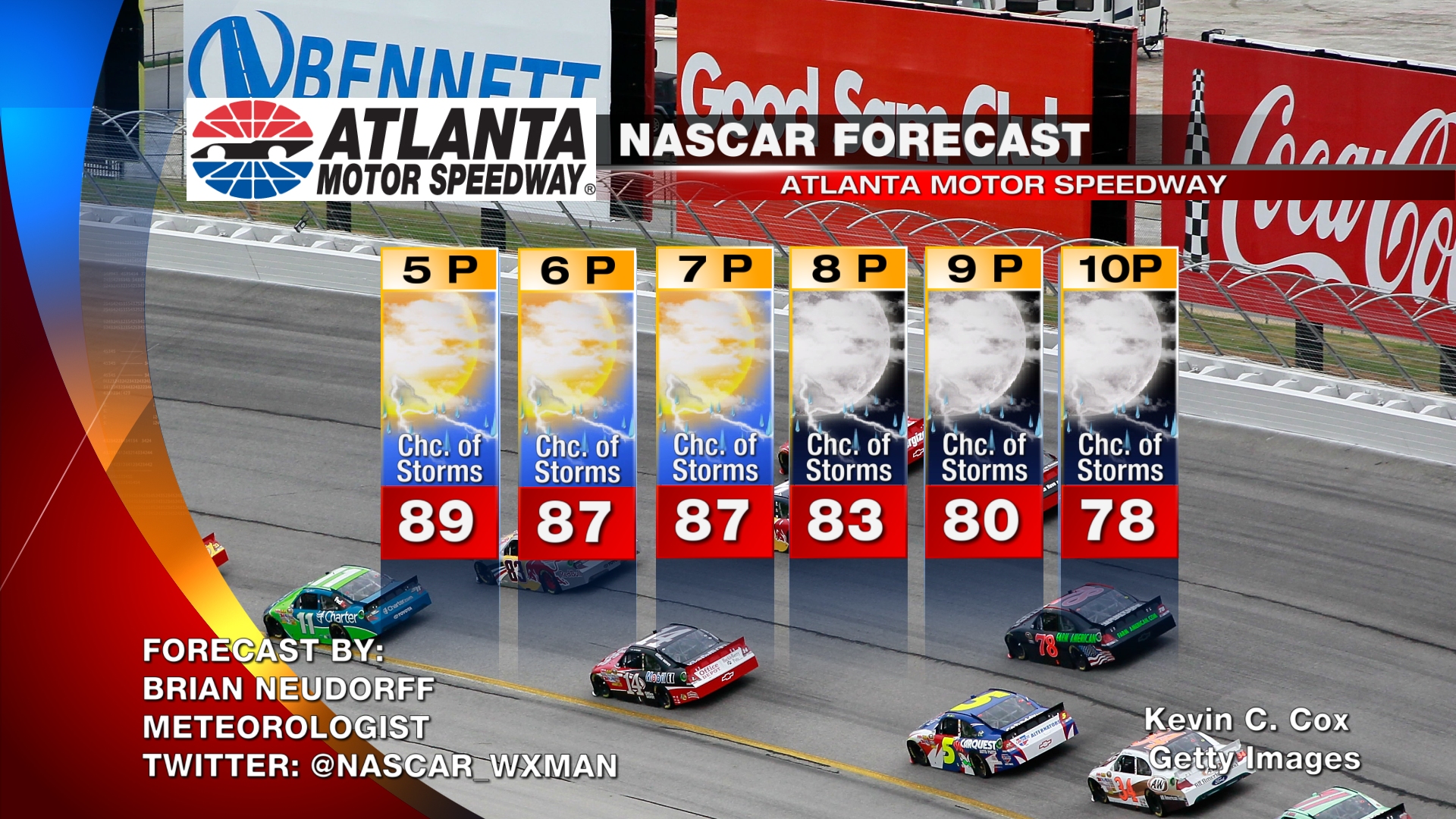 Follow me on Twitter – @NASCAR_WXMAN and on Facebook.

Conditions in Atlanta, GA: Click here for Current Weather Conditions – Look at Doppler Radar | Mobile Friendly Site | Mobile Radar
Complete Broadcast Schedule From NASCAR.com
What do I mean when I use the word "scattered?"
Imagine you have a bag of marbles and you dump the marbles on the floor. What do the marbles do, they scatter all over the floor. You can't predict where the marbles will land all you know is they will stop at random points on the floor. That's similar to the rain showers we can expect this weekend. Hard to know where a rain shower will form but if showers and storms start to form then the threat of a shower or storm hitting the track increases and the radar needs to be watched.
Please follow me on Twitter @NASCAR_WXMAN and like me on Facebook for the latest Weather updates through the week.
This entry was posted by Brian Neudorff on September 2, 2012 at 3:00 PM, and is filed under 2012 NASCAR Season, AdvoCare 500, Atlanta Motor Speedway, NASCAR Weather, Race Forecast, Race Tracks, Race Weather, Race Weekend, Races, Sprint Cup Series. Follow any responses to this post through RSS 2.0.You can leave a response or trackback from your own site.