2012 Auto Club Speedway Weather Forecast: Steady All Day Rain Possible Sunday

Click here for the Latest Forecast
Conditions in Fontana, CA:
Click here for Current Weather Conditions | Look at Doppler Radar | Mobile Friendly Site | Mobile Radar
Complete Broadcast Schedule From NASCAR.com
Fontana, CA
| | | | |
| --- | --- | --- | --- |
| FRI MAR 23 | SAT MAR 24 | SUN MAR 25 | MON MAR 26 |
| | | | |
| Chc. of AM fog and drizzle. Partly sunny in the afternoon. | Patchy AM Fog. Mix of sun and clouds. | Rain showers likely all day | Mostly cloudy, chance of showers mainly in the morning. |
| High: 66Low: 50 | High: 70Low: 47 | High: 60Low: 46 | High: 58Low: 47 |
FORECAST UPDATE THURSDAY 9 PM EDT (3/22/2012):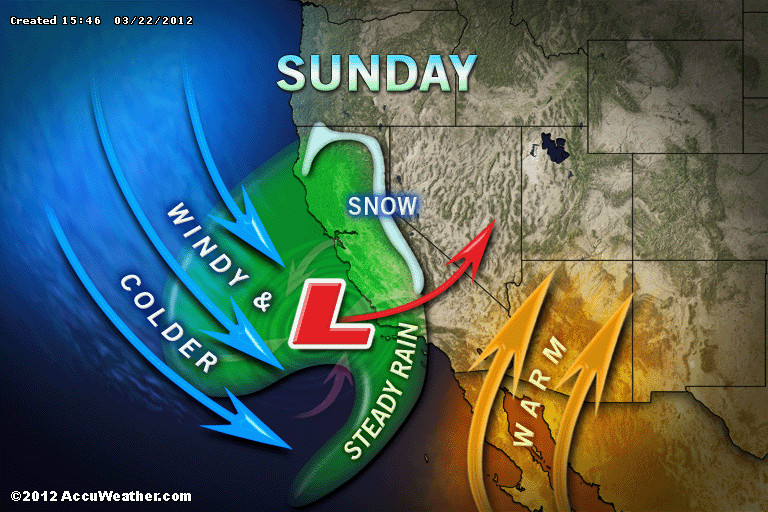 The attenion for this weekend's forecast at Auto Club Speedway will be the arrival of a Pacific storm system that is currently in the Gulf of Alaska. This does not look good for racing on Sunday. Rain showers will begin to arrive Sunday morning and will continue through the day and into Sunday night. The system does lift quickly to the northeast late Sunday night and should start to see the rain move out early Monday morning with a better chance of racing on Monday.
Brian, does this mean Sunday is a washout? I'm not ready to call Sunday a washout but it is starting to look more and more like it. The odds of racing Sunday I think is less than 20%. If I were going to the race and could stay Monday I'd be making back up plans. Monday's forecast is looking better with rain ending during the morning and drying out midday and early afternoon local time. If the forecast starts to change for the better I will let you know.
Please follow me on Twitter @NASCAR_WXMAN and like me on Facebook for the latest Weather updates through the week.
Look for more of my NASCAR weather forecastsover at SBNation.com.
Special offer for NASCAR WXMAN readers:
Purchase MyWARN by May 31st for a one time cost of $9.99. Purchases of MyWARN on or after June 1 will fall under an $11.99 annual subscription fee pricing structure.
When you initialize the app on your phone, be sure to enter the promotional code NASCARWX to be entered in a drawing for a $10 iTunes gift card. Ten lucky winners will be drawn from the NASCAR WXMAN purchasers on June 1, 2012. Don't forget to enter your email as well. MyWARN will never email you without your permission (unless you win!) nor divulge your email addresses to any other agencies.
Click the App Store logo below or to the right to view the app in the App Store.
This entry was posted by Brian Neudorff on March 22, 2012 at 6:53 PM, and is filed under 2012 NASCAR Season, Auto Club 400, Auto Club Speedway, NASCAR Weather, Nationwide Series, Race Forecast, Race Tracks, Race Weather, Race Weekend, Races, Royal Purple 300, Sprint Cup Series. Follow any responses to this post through RSS 2.0.You can leave a response or trackback from your own site.